The definitive guide. – by Laura Barry
It makes sense to clean your solar panels every six months, if you want to do it yourself the instructions are below. But please keep it safe and only clean from the ground. If you have to get on the roof then use a professional.
Solar panels are generally pretty much self-cleaning as natural rainfall will usually wash away the accumulated dust and grime. However, if your solar panels are only tilted minimally, or you live in a high-traffic, dry or dusty area, or even by the sea, then you're going to need to clean your solar panels in order for them to continue generating a maximum output of power. Dust, bird dropping, grime, leaves, and sea-salt residue can all reduce the amount of power your solar panels produce, as well as reduce the lifespan of your solar panels. Solar panels are a relatively new feature of residential homes, and as such not many people know how to correctly clean their solar panels.
Why should you clean your solar panels?
Dirty solar panels reduce the amount of sunlight being absorbed by the panel, thus reducing the amount of electricity being generated by the solar panel. Further, solar panels are a product of electrical technology and need to be maintained in order to keep them working and in good condition for years to come.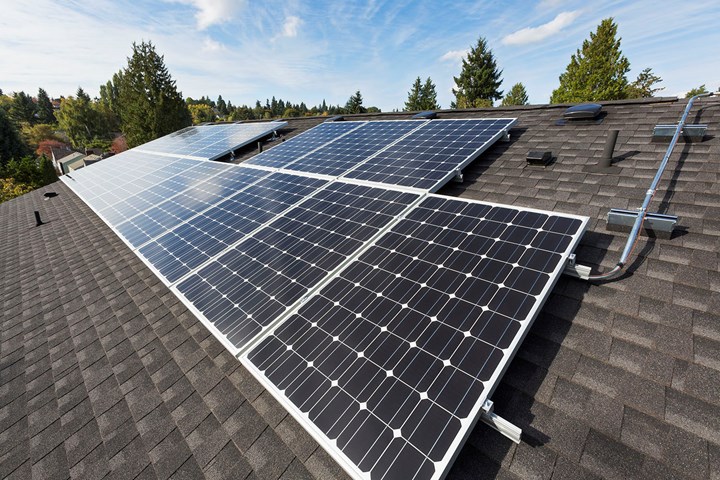 How often should you clean your solar panels?
The ZEN Energy Fact Sheets recommend that solar panels be cleaned every six months, and the best times to clean are late spring and late autumn, but homes located in areas with construction and/or regional/farming areas should clean their panels more frequently. Alternatively, if you live in a relatively clean area that experiences regular rainfall, periods between cleaning could e longer, or even unnecessary. Have your panels inspected by a reputable solar specialist before getting your panels cleaned.
When should you clean solar panels?
Clean your solar panels on an overcast day in the early morning or evening in cooler months. Not only will this protect you from sun damage, but it'll stop any cleaning products from drying too quickly on the solar panels, leaving additional grease or residue.
Who can clean solar panels?
Any able-bodied person can clean their own solar panels, as long as they do so from the ground, or have professional knowledge of carrying out rooftop solar panel cleaning. If this isn't possible, you will need to hire a Clean Energy Council accredited technician with the appropriate safety and equipment training instead.
How much does it cost to clean solar panels?
Renew Economy reports that solar panels generally cost up to $15-  $20 each to clean, which means the annual cleaning of an average-sized 2KW solar PV system with 10 panels could cost around $330, depending on your location and service provider.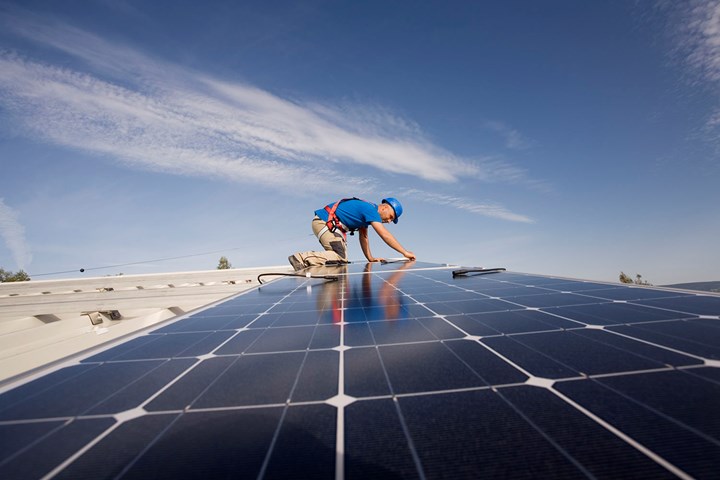 How do you clean solar panels?
If you can safely reach your solar panels from the ground, then you can give them a clean yourself. According to Energy Matters, you need a good-quality soft brush and a squeegee with a plastic blade on one side, and a cloth-covered sponge on the other, with a long extension arm. Use a hose with a suitable nozzle that gets the water stream to the tops of your panels.
5 steps to cleaning solar panels
Australian energy provider Red Energy suggests before carrying out any cleaning on your solar panels you should have a professional technician check for obvious defects, discolouration, chips or cracks in the glass, and ensure all fittings and cables are securely attached to the frame and inverter.
Follow the instructions in your solar panel manual to completely shut off the system before attempting any sort of cleaning.
Once this is done, brush off any loose dust and debris from your panels.
Using just clean water and your soft brush with sponge and squeegee functions, remove any stubborn grime and residue.
Rinse with clan water and dry with the squeegee.
What NOT to do when cleaning solar panels
Don't use abrasive products, detergents or powders for cleaning your solar panels as these can scratch the glass and leave residue.
Hard water (mineral rich) can leave deposits when it dries.
Only direct water on the top suface of your panels, not on the back of the panels or in the gaps between the panels and the roof.
Do not wash solar panels when they are hot – the sudden temperature change from cold water increases the risk of cracking the glass.
Disclaimer: The opinions posted within this blog are those of the writer and do not necessarily reflect the views of Better Homes and Gardens® Real Estate, others employed by Better Homes and Gardens® Real Estate or the organisations with which the network is affiliated. The author takes full responsibility for his opinions and does not hold Better Homes and Gardens® Real Estate or any third party responsible for anything in the posted content. The author freely admits that his views may not be the same as those of his colleagues, or third parties associated with the Better Homes and Gardens® Real Estate network.