Leveraging State of the Art Real Estate Technology
Accessing leading-edge real estate technology gives our sales operations the tools to run smoothly and efficiently. Our technology is continuously reviewed and improved, particularly the proprietary Better Homes and Gardens®Real Estate platforms which provides every office, seller and buyer across the country a superior experience and better outcomes.
Using advanced technology for the management of properties, contacts, training and development as well as communication and lead generation is of vital importance in the current environment. Our technology team work tirelessly to see that every Better Homes and Gardens Real Estate franchise has the best tools on hand to ultimately help our customers find their dream home, sell for more, or manage their investments.
Website – national and global
The Better Homes and Gardens Real Estate's website doesn't just provide details for properties listed for sale and rent in Australia, it provides access to global property listings which enables consumers to view real estate from around the globe in 16 different languages, and currencies.
Our website is fast, modern and optimised to deliver an intuitive user-experience which allows our offices to obtain greater exposure and ability to connect with buyers. In addition to our corporate website, every BHGRE agent and office has a personal web page to showcase their current property listings, recent sales,  testimonials, etc.
If you're interested in joining forces with a globally recognised real estate brand and taking advantage of the latest Better Homes and Gardens Real Estate technology, contact us today.
Advanced office management
To manage the vast amount of information on properties, buyers, sellers etc. our Better Homes and Gardens Real Estate offices utilise a proprietary CRM platform titled Greenhouse. The importance of a process and platform to enable every office and agent to record, access and analyse valuable information about their business is addressed by Greenhouse. We also know that to serve our customers better our people need to be on the move and so access to Greenhouse is possible on mobile and tablet across Apple and Android devices. No matter where or when access to vital information is needed, it is on hand.
We have taken the same technological view to how our teams access training and development, the order process of marketing collateral and perform day to day tasks through the development of our Greenspace. All these features at your fingertips 24/7.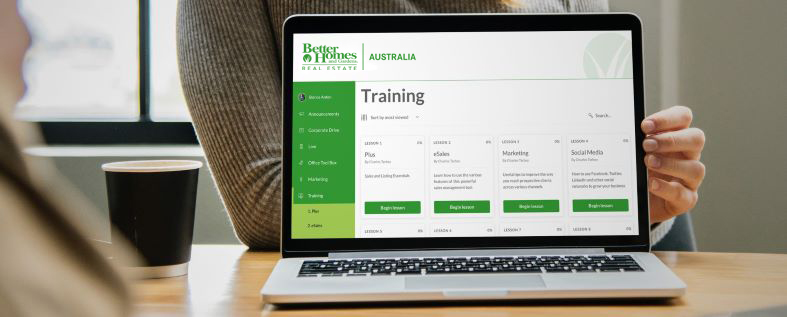 Client Login
Our unique online portal for clients allows sellers to remotely monitor the sale activity relating to their property from the comfort of their home. At Better Homes and Gardens Real Estate, we know selling your property can be stressful and time-consuming. Providing access to feedback from prospective buyers at a time and place that suits our client is a unique and valuable benefit.
Automated Listing Videos
Our Greenhouse CRM platform provides the ability to automatically add videos to listings in order to help promote the property. Help your vendor gain an affordable marketing edge over competitors, with all videos optimised for mobile devices. Videos include features like titles, voiceover, property images and details, and branding.
Search Engine Optimisation (SEO)
We understand the power of Search Engine Optimisation (SEO) to drive traffic to our website and provide interested consumers with the property related information they seek. We have designed the official Better Homes and Gardens Real Estate website, office websites and all listings to be automatically optimised with SEO in mind, resulting in higher rankings in search results and increased website visitors.