Buying an investment property should not be overwhelming
Now you can buy an investment property with guaranteed rent and positive cash flow without the stress and hassle.
We'll find you a property that grows in value and pays for itself . We handle the work so you don't have to.
HOW IT WORKS:
Schedule a consultation
Meet us in our Fitzroy office over the phone or online for an initial 45-minute consultation.
No cost and no obligation.
Ready to get started?
We will set out a roadmap for us to work together and provide the advice and support you need to be investment-ready.
Let us be your guide
We will help you buy an investment property and provide ongoing guidance and support for as long as you need.
When you meet with Better Homes and Gardens you'll get:
A free initial consultation
Guidance from Australia's top 10 property advisor
Access to our Successful Investor program
An assessment to see if you are investment ready
Positive cash flow properties
Large Tax Deductions
Your Rent is Guaranteed
No Money From Your Pocket
Investing in Australian Real Estate can be a great way to build wealth.
But don't do it alone!
Why would you try and do things all by yourself when we've been doing it for 20 years and will do it for you?
As investment property specialists, we know what to look for and how to avoid the hidden pitfalls that cost you money.
We can set you on a path to be debt-free in record time.
Better Homes and Gardens Real Estate is a brand you can trust. Our focus is on you and the outcomes you seek from property investment. We'll show you how to invest with confidence, without the confusion, in a low-risk and relaxed environment.
Featured In:
FEATURED IN:

When it comes to real estate I have found there are agents who all they want to do is just sell property, or there are the Michael Sloan's of the world. You know the ones, who you can see think, plan, strategise and execute with amazing results. These skills aren't developed overnight. It's years and years of being in the trenches and knowing your stuff.
If you really believe that your greatest asset is your home or investment property, then you don't need to seek anyone else.
He will tell you the truth. He will guide you. He will keep your mind at ease and he will have your best intentions in hand.
Jason Carter
Read articles about property investing by our MD Michael Sloan at National Australia Bank.
"I and my clients have dealt with Michael and Laurel Sloan for many years and
have always found his advice to be constructive, forward-thinking and easy to
implement.
There are way too many Real Estate "Gurus" who lack the experience and
understanding Michael offers his clients.
If you are looking to purchase a property, "without a sales pitch", I would
definitely recommend you seek out the services of Better Homes and Gardens
Real Estate."

Terry Loftus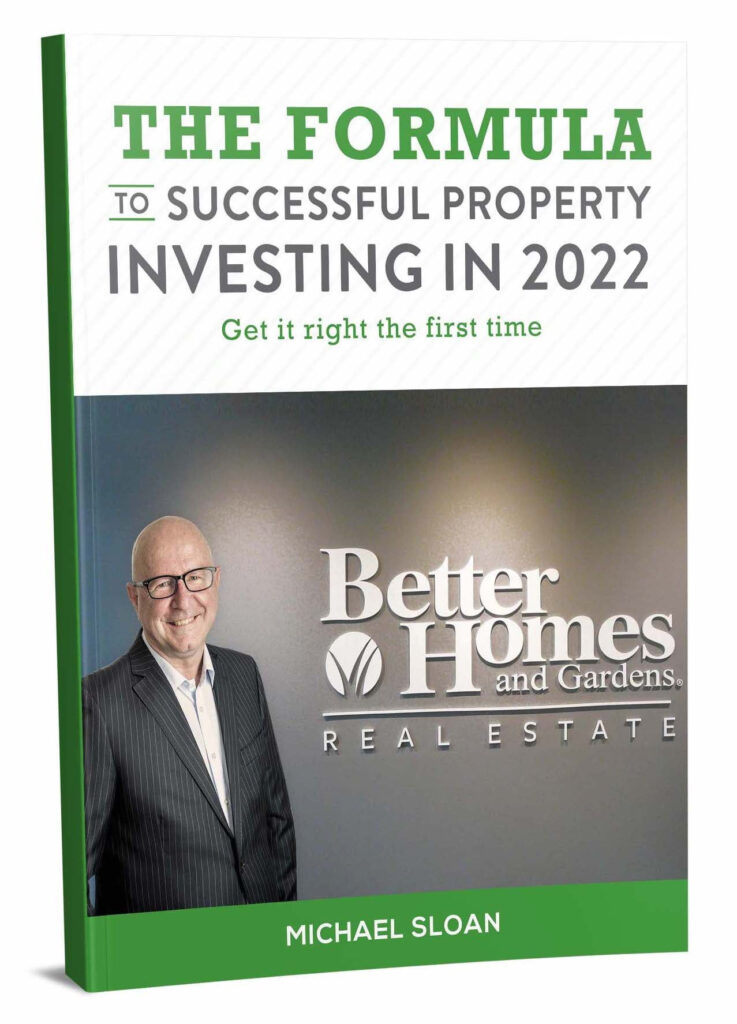 THE FORMULA TO SUCCESSFUL PROPERTY INVESTING IN 2022
---
When it comes to property investing, there is no 'magic' formula, however, there are key things you need to know and do that increase your likelihood of being successful and lower your chance of failing.
The Formula to Successful Property Investing offers valuable information to guide you through your property investing journey as a first-time or experienced investor. Get the best advice to create wealth, buy a home and build exceptional lifestyles through property ownership.
FREE 1-On-1 Consultation
---
Topics we will cover
:
The property type with a 100% success rate
What capital growth will you get?
The right kind of property to buy
How much tax will you save?
Property types you must never buy
Are you finance ready?
THE MOST COMMON THING WE HEAR FROM OUR CLIENTS IS:
"I should have invested in properties 10 years ago"
THAT SHOULDN'T BE YOU