Better Homes and Gardens® Real Estate is committed to providing our network with everything they need to help build a successful, fulfilling career in real estate. Whether you are new to the industry or an experienced professional, we provide unique tools, training and development, marketing and technology that will develop your skills and keep you a step ahead of the competition. All backed by a brand whose culture is defined by its passion, integrity and forward-thinking leadership. How can you go wrong?
Better approach
We are facilitators of life and home, who our clients can look to for honest advice and trusted help. Better Homes and Gardens Real Estate was born out of a desire to provide amazing service to today's savvy consumers. Understanding that a real estate transaction is one of the most important aspects in the life of both the buyer and the seller, propels our Expect Better® ethos. Likewise, we believe that every home, client, and community is unique, and therefore our teams from Sales through to Property Management know that in order to offer better service; that they, in turn, must Be Better®.
Better values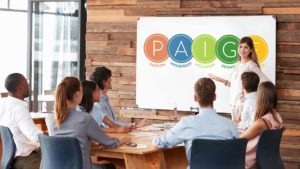 Empowering people to live – this is the foundation that makes Better Homes and Gardens® Real Estate different. We embrace a set of stated core values called PAIGE – Passion, Authenticity, Inclusion, Growth and Excellence. These core values serve as our guide in all of the decisions we make and set the stage for a culture that must be experienced to be believed. These values, combined with our lifestyle brand, customised tools, technology, and support, provide a solution that today's real estate environment is often missing. In an era when the consumer is demanding value, we act as the support mechanism that allows our affiliated real estate professionals to continue to grow and thrive.
Better support
Our dedicated growth and service team love nothing more than guiding the success of your business. The values that we embrace throughout the Better Homes and Gardens® Real Estate family set the tone of the support that we provide to your business and team. The professional individuals that make up our service team come from all walks of life and bring to the table a wealth of knowledge and expertise for the benefit and advancement of your office and staff. This hand-picked team of award-winning, real estate industry veterans act as both guiding gurus and first port-of-call for all things related to our brand.
Disclaimer: The opinions posted within this blog are those of the writer and do not necessarily reflect the views of Better Homes and Gardens® Real Estate, others employed by Better Homes and Gardens® Real Estate or the organisations with which the network is affiliated. The author takes full responsibility for his opinions and does not hold Better Homes and Gardens® Real Estate or any third party responsible for anything in the posted content. The author freely admits that his views may not be the same as those of his colleagues, or third parties associated with the Better Homes and Gardens® Real Estate network.