October at a glance
Every capital city with the exception of Melbourne recorded a rise in housing values in October
At a national level, values rose by 0.4% for the month compared to -0.1% for the last quarter showing a visible recovery in the housing market
Our two largest cities  were the worse performers with Sydney increasing by only 0.1% while and Melbourne saw values drop by 0.2% due to the prolonged restrictions that were in place
Adelaide, Hobart, Darwin and Canberra all saw an increase in values of 1.0% or greater.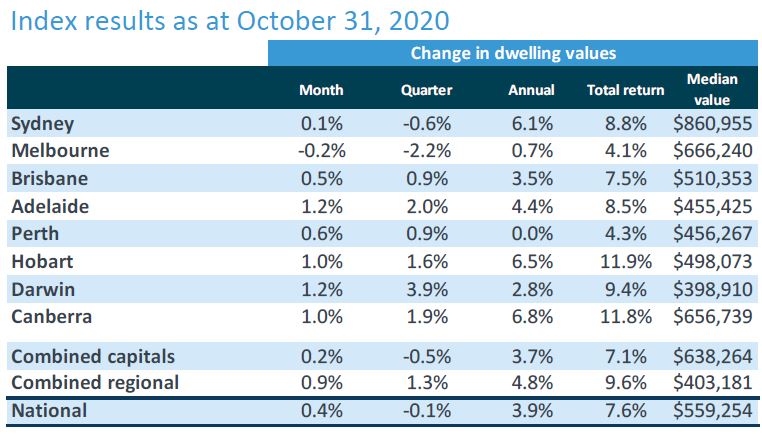 Source: CoreLogic Hedonic Home Value Index, 1 November 2020.
Home sales increased during October by an estimated 7% nationally. This is in contrast to the previous 3 months where sales activity was 1.5% lower than the same time in 2019.
According to CoreLogic, auction results have also been strengthening with clearance rates rising to over 60% in the past two months. Sydney in particular reached 70% late in October which has not been the case for 6 months. Even Melbourne has witnessed an increase in the number of auctions with approximately 600 taking place during October compared to close to zero in previous months.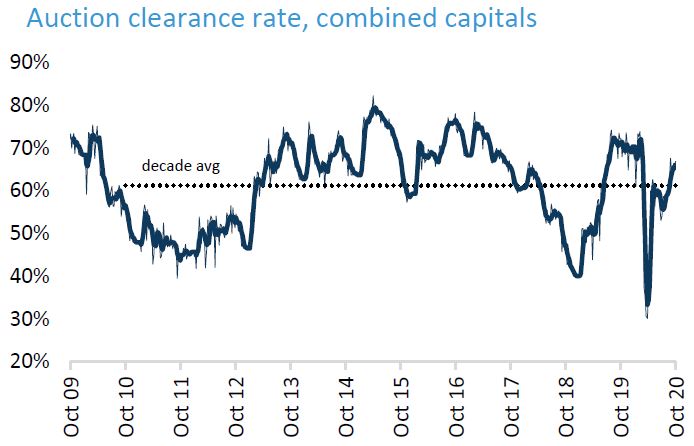 Source: CoreLogic Hedonic Home Value Index, 1 November 2020.
Regional markets seem to have performed better that capital cities during the pandemic. The rolling annual change in housing values in the combined regional market has increased consistently since early 2019 and throughout the COVID-19 impacted market with a 4.8% increase over the year. The combined capital cities on the other hand saw values rise throughout 2019 and then drop as the pandemic took hold to achieve a 12 month growth of only 3.7%.

Source: CoreLogic Property Pulse, 5 November 2020.
In summary, housing looks to be responding positively to improved consumer sentiment, government support measures, and low mortgage rates. House values are at worst stabilising but in most cases rising across the country. Sales activity is starting to increase also with more properties listed for sale.
Rental conditions remain uncertain in the inner city high rise unit precincts, especially in Melbourne and Sydney, where rental falling rents and occupancy rates are likely to impact investor activity.
CLICK HERE TO DOWNLOAD THE FULL REPORT
Author: Frank Knez

Disclaimer: The opinions posted within this blog are those of the writer and do not necessarily reflect the views of Better Homes and Gardens® Real Estate, others employed by Better Homes and Gardens® Real Estate or the organisations with which the network is affiliated. The author takes full responsibility for his opinions and does not hold Better Homes and Gardens® Real Estate or any third party responsible for anything in the posted content. The author freely admits that his views may not be the same as those of his colleagues, or third parties associated with the Better Homes and Gardens® Real Estate network.