November at a glance
Every capital city recorded an increase in housing values during November
Nationally, dwelling values rose by 0.8% over the month which is the second consecutive monthly increase and denotes a continued recovery in the Australian housing market
Our largest cities performed the worst of all capitals and were below the national average
The volume of new properties listed for sale continues to remain low across the country.
Source: CoreLogic Hedonic Home Value Index, 1 December 2020.
Sydney dwelling prices remain the most expensive with a median value of $860,967, followed by Canberra and Melbourne with median values of $672,866 and $672,172 respectively.
Auction markets continue to strengthen with clearance rates in November sitting around 70%. The number of properties taken to auction is expected to also lift in December prior to the slowdown as we head towards the end of the year.
The monthly change in housing values is nicely depicted in the following graph where we see a turnaround from the decline in value in early 2020 resulting from the impacts of COVID19  and the resultant restrictions.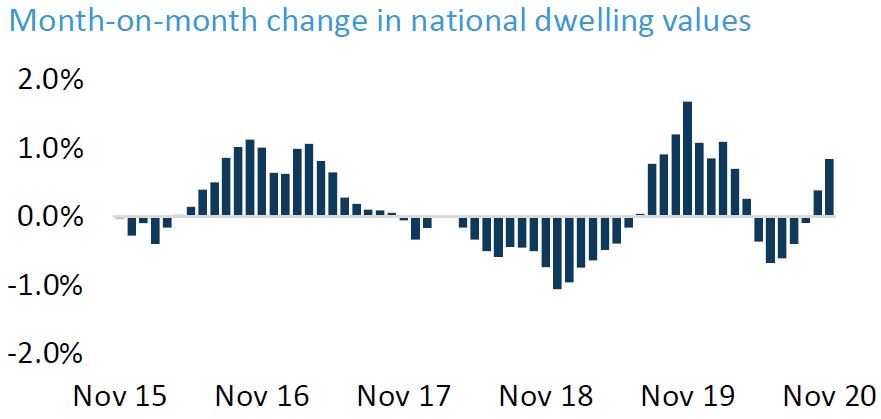 Source: CoreLogic Hedonic Home Value Index, 1 December 2020.
There are numerous factors driving the improvement in house values. The number of properties put up for sale remains extremely low and so interested buyers are competing for the limited supply of dwellings on the market. Adding to this is the current historically low interest rates which is encouraging buyers to avail themselves to the inexpensive finance that is currently available, with numerous lenders offering home loan rates below 2%.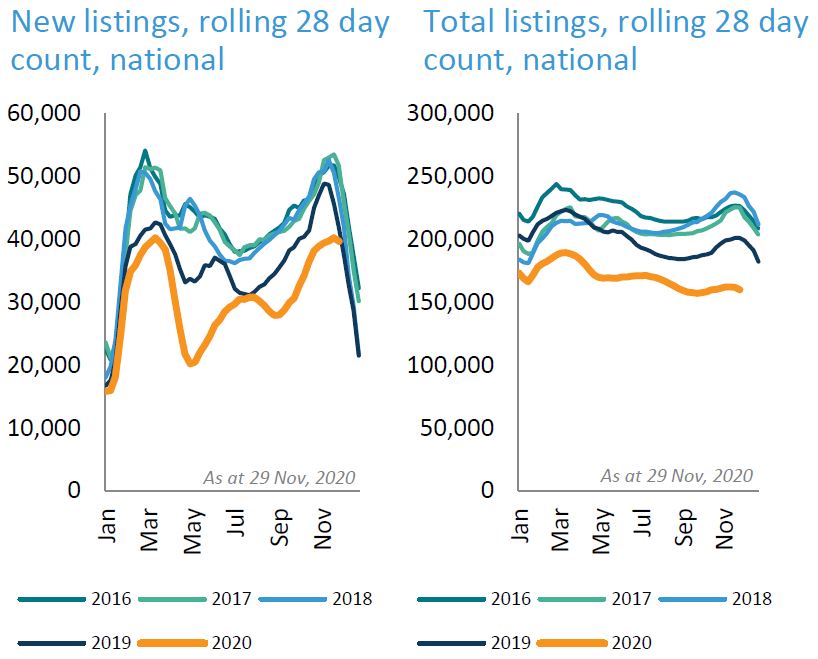 Source: CoreLogic Hedonic Home Value Index, 1 December 2020.
It is expected that the demand for housing will remain strong due to the various stimulus measures that exist to help the economy navigate the impact of COVID19. Consumer sentiment is on the rise which is driving demand for not only housing but other asset classes such as shares where we see the All Ordinaries only 416.1 points of its pre-COVID high of 7289.70.
Record low interest rates will help encourage more buyers to borrow for the purchase of real estate, and the low level of inventory will create some urgency amongst buyers which will ensure that properties that are put up for sale should sell relatively quickly.
CLICK HERE TO DOWNLOAD THE FULL REPORT
Author: Frank Knez

Disclaimer: The opinions posted within this blog are those of the writer and do not necessarily reflect the views of Better Homes and Gardens® Real Estate, others employed by Better Homes and Gardens® Real Estate or the organisations with which the network is affiliated. The author takes full responsibility for his opinions and does not hold Better Homes and Gardens® Real Estate or any third party responsible for anything in the posted content. The author freely admits that his views may not be the same as those of his colleagues, or third parties associated with the Better Homes and Gardens® Real Estate network.