January at a glance
The start of 2021 saw housing values continue where it left off, with national values rising by 0.9% over the month,
Australian home values are now 1.0% higher than pre-COVID levels,
Regional markets have been increasing at twice the rate of capital city markets,
Values for houses have outperformed units, rising 3.5% in the last 6 months whereas unit prices remain unchanged.
Change in dwelling values
Darwin has led the charge with an increase in housing values of 2.3% for the month of January, and 6.6% over the last quarter. The next best performing capital cities were Perth and Hobart which each saw values rise by 1.6% over the month.
Median dwelling prices remain highest in Sydney at $879, 299, an increase of $7,550 on the previous month. Melbourne is the second most expensive city with a median price of $692,162, and Canberra third at $686,654.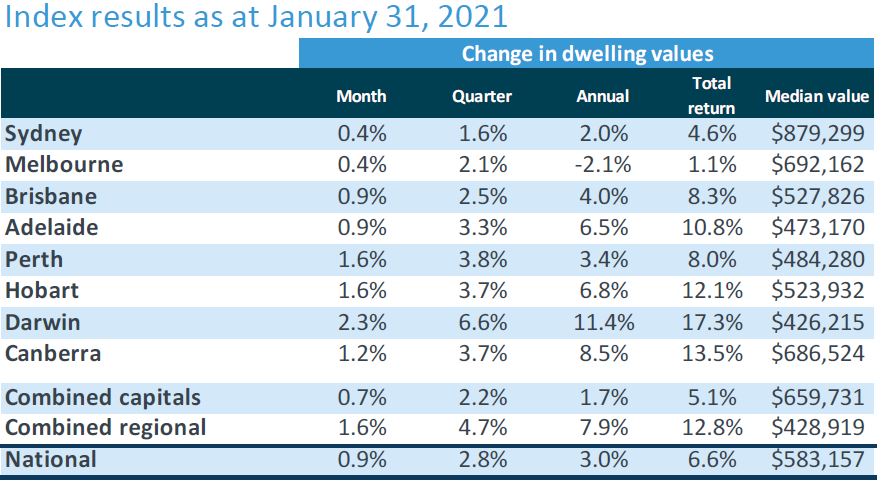 Source: CoreLogic Hedonic Home Value Index, 1 February 2021.
The trend has also continued with regional prices increasing significantly more than capital city markets. Over the last 12 month, median regional dwelling values rose by 7.9% compared to 1.7% for the combined capitals.
New listings remain low
Rising property values have coincided with a low level of properties being put on the market for sale. The start of 2021 continues to see low inventory levels which are 3.3% below this time last year and 13.3% less that of the 5-year average.
Going against the trend were only Melbourne and Perth were new properties listed for sale were 20.8% and 2.2% respectively higher than a year ago.
While the new properties coming on the market are marginally lower than last years levels, the total number of advertised properties on the market started at a record low. The rate at which buyers have been absorbing the new stock coming to market has contributed to low count of total listings.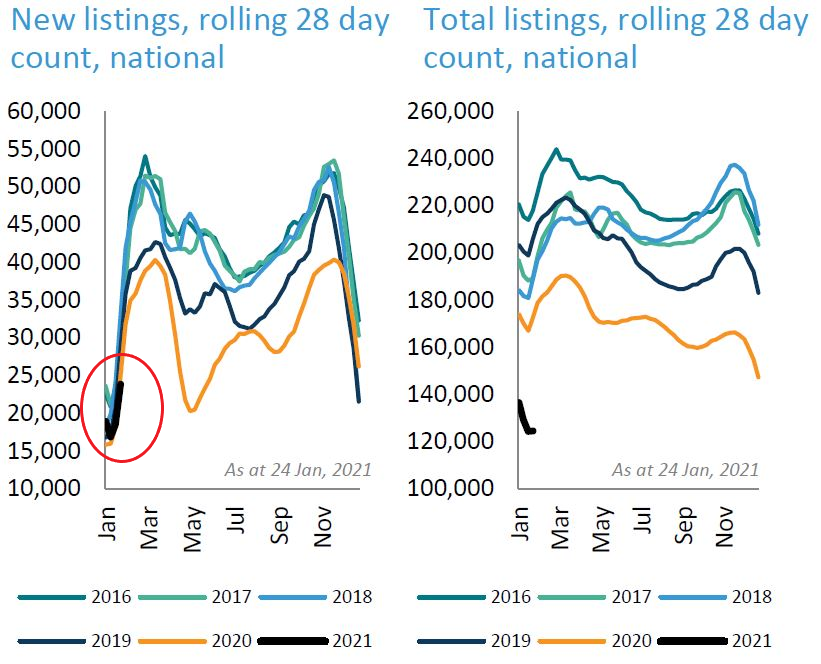 Source: CoreLogic Hedonic Home Value Index, 1 February 2021.
High demand for property
Recent months has seen a rising level of buyer activity. New home loan commitments have continued to soar over the last few months  with data from the The Australian Bureau of Statistics Lending Indicators for December 2020 showing an 8.6% rise in December from the previous month, and a 31.2% rise form December 2019.
Tim Lawless, Research Director for CoreLogic noted that "at the moment, despite our expectation of a lift in new listing numbers, buyer demand is still outpacing new stock additions".
This is on the back of seeing the number of mortgage related valuations climbing to 27 higher than it was a year ago across the CoreLogic Valex valuation platform.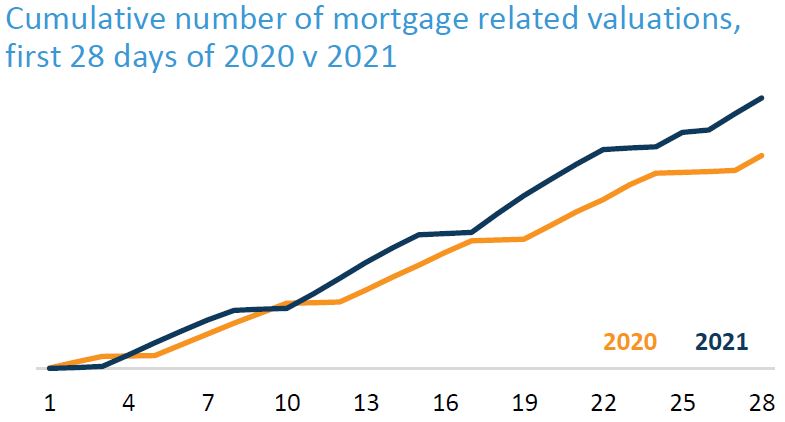 Source: CoreLogic Hedonic Home Value Index, 1 February 2021.
Summary
The housing market has started 2021 in a strong position which looks likely to continue throughout the year where it is expected that property prices will continue to rise. This is due to growing positive consumer sentiment on the COVID front, a better performing Labour market to forecast, and very low interest rates with the RBA holding the official cash rate at 0.10% following their February meeting.
CLICK HERE TO DOWNLOAD THE FULL REPORT
Author: Frank Knez

Disclaimer: The opinions posted within this blog are those of the writer and do not necessarily reflect the views of Better Homes and Gardens® Real Estate, others employed by Better Homes and Gardens® Real Estate or the organisations with which the network is affiliated. The author takes full responsibility for his opinions and does not hold Better Homes and Gardens® Real Estate or any third party responsible for anything in the posted content. The author freely admits that his views may not be the same as those of his colleagues, or third parties associated with the Better Homes and Gardens® Real Estate network.