September at a glance
Housing values nationally rose by 1.5% in September to now exceed 20% in capital gains over the previous 12 months,
Every capital city and state region saw positive changes to dwelling values over the month, 
Advertised supply remains low which is driving the rising values across the country,
The number of property sales is well above average as stock sits on the market for a very short time,
The rate of growth in rents continues to increase but at a slower rate.
Housing values
National dwelling values rose by 1.5% over September, and similar to last month was underpinned by Hobart where prices were up by 2.3%, Canberra 2.2%, and Sydney and Adelaide where they rose by 1.9%. The worst performers were  Darwin where values just managed to stay positive (0.1%), Perth (0.3%) and Melbourne (0.8%) on the back on further lockdowns.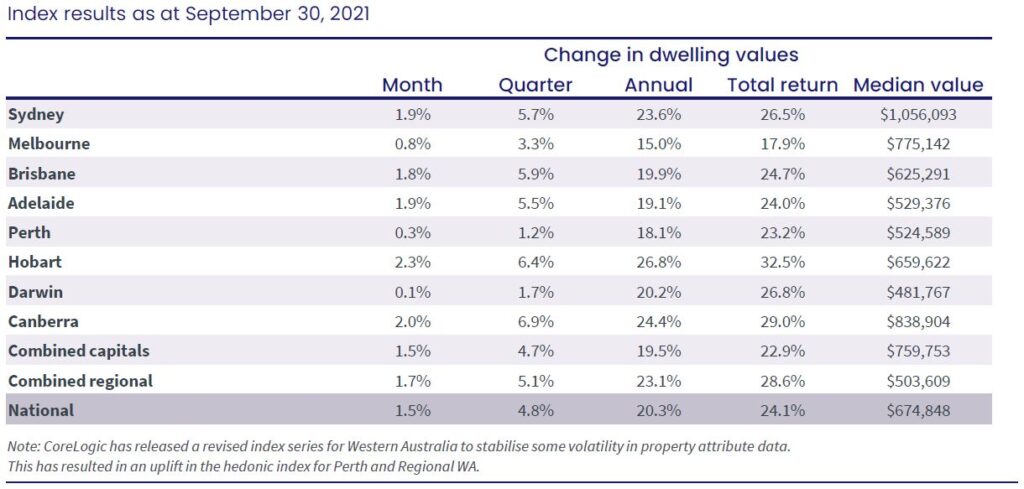 Source: CoreLogic Hedonic Home Value Index, 1 October 2021. 
Affordability will now become more challenging due to the 20.3% average increase in national housing values for the last 12 months. Household incomes are not growing anywhere near that level and based on a 20% deposit requirement, home buyers need to save approximately $211,219 to afford a property in Sydney, $155,028 in Melbourne, $125,058 in Brisbane, and $105,875 in Adelaide (based on the median values in the table above).

Source: CoreLogic Hedonic Home Value Index, 1 October 2021.
Values in  the combined regional areas rose by 1.7% to achieve a median value of $503,609 compared to the combined capital cities where values increased by 1.5% for a median price of $759,753.
Strong level of sales
Overall, the level of total properties listed for sale remains extremely low and in fact are 28% lower than they have been compared to the five-year average. New listings are also low compared to historic levels, and when they do hit the market they are scooped up quickly by eager buyers. We are in a position where while stock levels are low, the number of property sales is high and well above average.

Source: CoreLogic Hedonic Home Value Index, 1 October 2021.
CoreLogic's research director, Tim Lawless, noted that "Nationally, homes are selling in 35 days, up from 29 days in April, and vendor discounting levels remain around record lows at -2.8%. Another factor pointing to strong selling conditions is the bounce back in auction clearance rates".
September saw the average national auction clearance rate return to 80.5% which is the highest it has been since late March. With the lowering of restrictions in sight, and consumers eager to be out and about, coupled with low mortgage rates and very low quantity of new properties advertised for sale, it is expected that demand for housing will remain strong in the near term.
Outlook
Growth in national rents has continued to rise, up by 8.9% over the year to September, however is expected to taper off.  Rental yields too have dropped to record lows across most regions.
Housing values will likely continue to increase based on the current and near term expectation that interest rates will remain low, and the strong demand what exists concurrently to low levels of inventory on the market. And end to lockdowns is also expected to drive a spike in buyer and seller activity as the traditionally strong spring selling period which has been delayed, kicks into full swing.
A key headwind to look out for is the impact of new credit restrictions aimed at managing household debt in the wake of expectation that interest rates will eventually start to rise. Lenders were advised by regulator APRA in early October that it expects them to assess new borrowers' ability to meet their loan repayments at an interest rate that is 3.0% above the loan rate compared with a 2.5% buffer which is common today.
CLICK HERE TO DOWNLOAD THE FULL REPORT
Author: Frank Knez

Disclaimer: The opinions posted within this blog are those of the writer and do not necessarily reflect the views of Better Homes and Gardens® Real Estate, others employed by Better Homes and Gardens® Real Estate or the organisations with which the network is affiliated. The author takes full responsibility for his opinions and does not hold Better Homes and Gardens® Real Estate or any third party responsible for anything in the posted content. The author freely admits that his views may not be the same as those of his colleagues, or third parties associated with the Better Homes and Gardens® Real Estate network.