Social media is reaching more passive buyers and sellers today than ever before.
Agents today understand they need a social strategy but often don't know where to start. Better Homes and Gardens Real Estate provides an effective framework for crafting a memorable voice across social media.
Our association with Australia's most loved home brand Better Homes and Gardens, enables our agents to share relevant, branded content to their following. Everything from DIY weekend jobs around the home, to property presentation tips all through video, imagery and blog content.
So being part of Better Homes and Gardens Real Estate not only avails you to a broad range of content to share on social media platforms, it also provides access to a range of resources for our offices to use including:
Multiple guides on best social media practice, how to create new accounts, example content calendar, hashtag how-to,
Editable graphics that can be customised to suit a variety of uses such as property templates, OFI, agent, testimonials,
Brand images with over 25+ options highlighting the strength of the BHGRE brand and network,
Animations and generic stock images that highlight certain events and feel-good family moments to rotate between posts, and
Display and cover photo images.
Our brand enjoys an enviable association with our magazine and TV show partners who boast a large and loyal social media following. Due to this relationship, we are able to share appropriate posts made by these pages in addition to content posted by our corporate page Better Homes and Gardens Real Estate Australasia.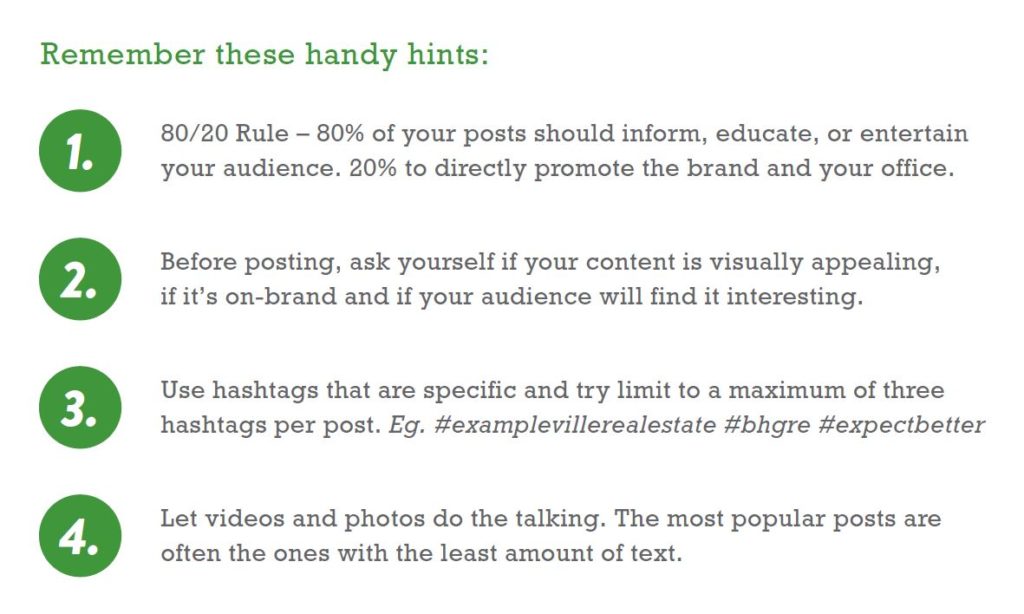 Disclaimer: The opinions posted within this blog are those of the writer and do not necessarily reflect the views of Better Homes and Gardens® Real Estate, others employed by Better Homes and Gardens® Real Estate or the organisations with which the network is affiliated. The author takes full responsibility for his opinions and does not hold Better Homes and Gardens® Real Estate or any third party responsible for anything in the posted content. The author freely admits that his views may not be the same as those of his colleagues, or third parties associated with the Better Homes and Gardens® Real Estate network.