Why presentation matters – By Rachel De Hosson
How your home presents for sale can make a big difference to your bottom line when that SOLD sticker goes up. It makes sense when you consider how many people will take a drive past your home before they decide to take a look inside – and you only get one chance to make a first impression. So, it's worth putting in the effort before you go on the market to maximise your home's 'street appeal' by giving your garden a spruce-up to ensure it looks its best.
If you're not sure where to start, we've got some great intel from a property expert who knows exactly what buyers are looking for; the things that add value and, just as importantly, what not to waste your money on. We asked Michelle Delaney, CEO of Better Homes and Gardens Real Estate for the lowdown on landscaping…
How does landscaping add value to a property?
The presentation of a property – inside and out – is paramount to ensure that you achieve the best price possible. When thinking of selling, most people often only consider updating the inside of the property and not the outside, when a simple exterior makeover can certainly add value.
How do I ensure my garden has broad appeal to a range of potential buyers?
Making your garden low maintenance and easy to manage will be more attractive to potential purchasers. A bright, friendly and welcoming outdoor area will be aesthetically pleasing and helps give you the best chance at securing the right price for your home.
What's your advice for landscaping the front of my house for maximum appeal?
It's important to get this right. Don't be tempted to overcapitalise here. Keep your landscaping simple and classic because, after all, you are selling and the new owners may want something completely different.
Sometimes it is the simplest things that will make the greatest difference. Re-mulch the garden beds and remove any old, faded pots or hanging baskets.
Bring in some bright colour in the form of flowering plants to really lift the property. Make sure that you prune and keep everything neatly trimmed; this way the home looks well kept. If you have any water features, give them a good clean and also make sure to get the gurney out and spruce up the paths and any concrete areas.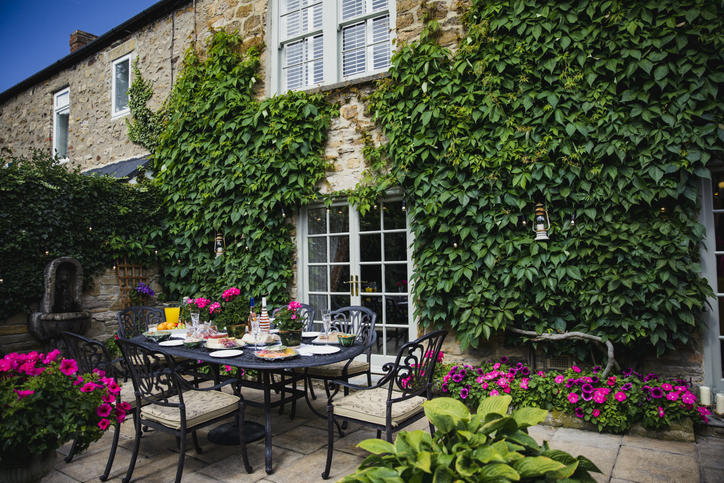 And the backyard? What do buyers want to see?
Again, it is important to ensure that your backyard area looks appealing to a potential buyer. If you have a pool, make sure it is sparkling clean and that the pool fencing is in top condition. Remove any excess growth or overhanging tree branches and give your lawn a good weed and a feed to make it look lush, green and welcoming.
Is there anything I should avoid having in my garden?
Old pots or dead bushes and trees will detract from the aesthetic appeal of your garden. Also, remove any withered pot plants. Make sure there is no rubbish lying around and keep your lawn trimmed, mowed and watered. You don't want to give the impression that your garden is neglected, so anything that looks tired or worn should go.
What are the trends you're seeing in landscaping?
A garden is an extension of the home these days – some might call this 'bringing the outside inside'. In today's fast-paced world, we want to know that the landscaping around our home fits in with our lifestyle so it can be enjoyed when we're home with our family. It needs to also have scope to grow as the family grows and be easy to maintain as life moves forward.
How long before I sell should I have my garden renovated or tidied up?
If you are planting new trees, shrubs or plants, you might want to think about how long these will take to look more established, so sometimes it's better to have a longer lead-in time before you go onto the market. If your garden is mostly well established and it is a simple renovation, then freshen up with nice pots, plants, and flowers.
https://www.bhg.com.au/landscaping-gardening-before-selling-house?category=property
Disclaimer: The opinions posted within this blog are those of the writer and do not necessarily reflect the views of Better Homes and Gardens® Real Estate, others employed by Better Homes and Gardens® Real Estate or the organisations with which the network is affiliated. The author takes full responsibility for his opinions and does not hold Better Homes and Gardens® Real Estate or any third party responsible for anything in the posted content. The author freely admits that his views may not be the same as those of his colleagues, or third parties associated with the Better Homes and Gardens® Real Estate network.