Housing values continue to drift lower on the back of COVID
The month of August saw Australian home values drop nationally by 0.4% and marked the fourth month of decline driven by the impacts of COVID. Although still trending lower from the highs in 2019, the rate of decline has started to ease, with some capital cities seeing their values rise during August.
The Australian housing market has shown strong resilience despite months of restrictions, lockdowns, stalled overseas migration, and rising unemployment.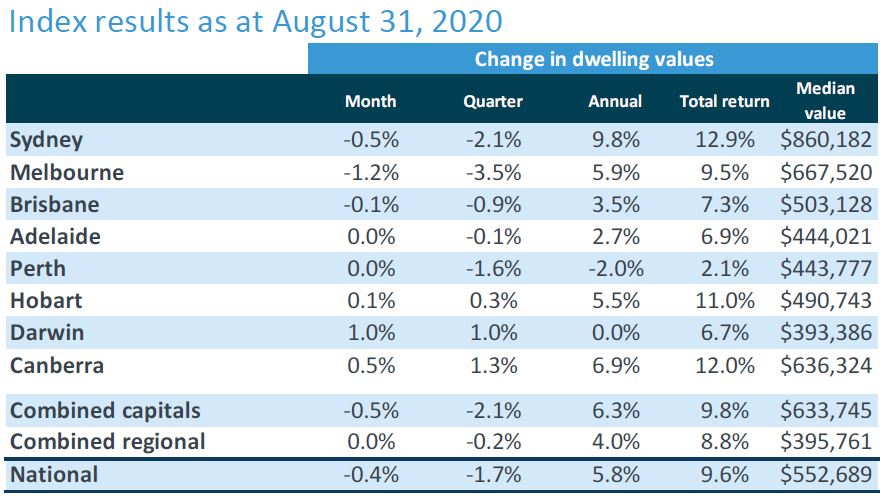 Source: CoreLogic Hedonic Home Value Index, 1 September 2020.
August saw housing values easing in the Sydney, Melbourne and Brisbane markets which underpinned the -0.4% national result. It is not surprising to see Melbourne prices drop the most (-1.4%) having been in Stage 4 lockdown since 2 August, showing the link between physical distancing policies and the performance of the housing market. Darwin, Canberra and Hobart had increases in their housing values and were underpinned by higher consumer sentiment related to the management of COVID in these regions.
The number of properties advertised for sale remains extremely low compared to pre-COVID and historic volumes. This may actually be beneficial to those who are considering selling their property due to less competition in the market, and a higher demand for housing compared to supply.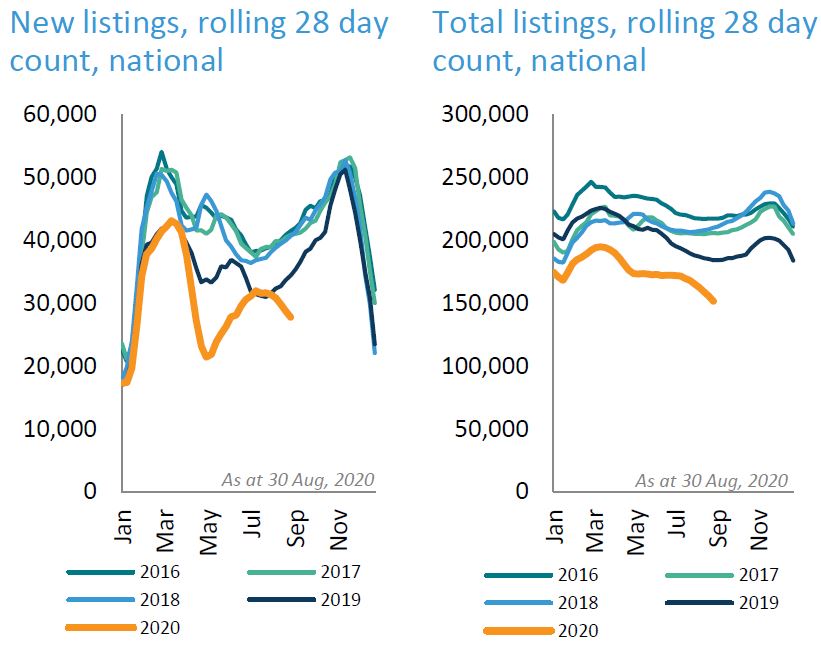 Source: CoreLogic Hedonic Home Value Index, 1 September 2020.
The low number of properties being listed for sale is also helping to insulate house prices, contributing to only a marginal decline in recent months compared to the fluctuations evident in other asset classes e.g. shares.
What happens to the housing market between now and the end of the year will be heavily influenced by changes in Government stimulus and support, easement of restrictions, and assistance provided by financial institutions to those impacted by COVID.
CLICK HERE TO DOWNLOAD THE FULL REPORT
Author: Frank Knez

Disclaimer: The opinions posted within this blog are those of the writer and do not necessarily reflect the views of Better Homes and Gardens® Real Estate, others employed by Better Homes and Gardens® Real Estate or the organisations with which the network is affiliated. The author takes full responsibility for his opinions and does not hold Better Homes and Gardens® Real Estate or any third party responsible for anything in the posted content. The author freely admits that his views may not be the same as those of his colleagues, or third parties associated with the Better Homes and Gardens® Real Estate network.