February at a glance
Dwelling values rose sharply in February with national values increasing by 2.1% over the month,
The February increase was the largest month on month change since August 2003,
Unit values continue to grow at a weaker level to houses,
While the supply of property hitting the market is increasing, it remains low compared to historic levels,
Regional market values have increased 5.4% over the past 3 months compared to 3.6% for capital city markets.
Change in dwelling values
The surge in housing values in recent months has been driven by a combination of factors including low interest rates,  government incentives, improving consumer sentiment, and low levels of property listed for sale.
Tim Lawless, CoreLogic's research director noted that "the last time we saw a sustained period where every capital city and rest of state region was rising in value was mid 2009 through to early 2010 as post GFC stimulus fuelled buyer demand".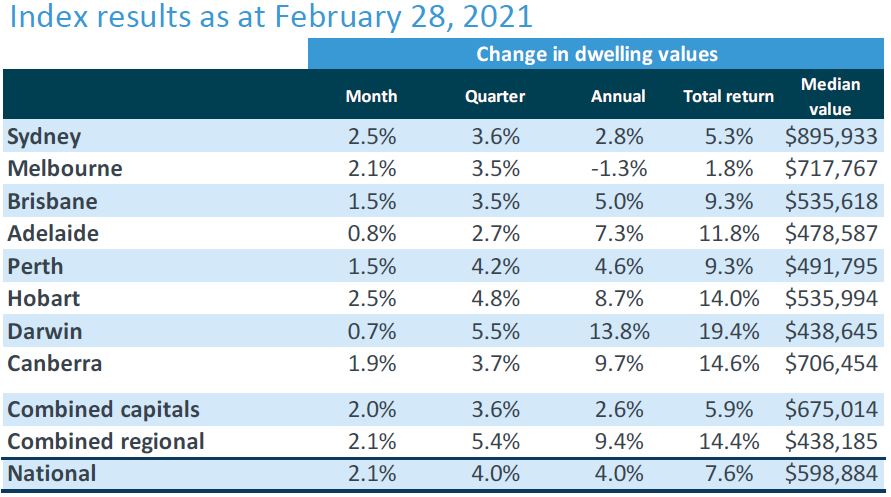 Source: CoreLogic Hedonic Home Value Index, 1 March 2021.
Sydney and Hobart led the way in February with housing values rising by 2.5%, followed by Melbourne at 2.1% and Canberra at 1.9%.
The median house price nationally is $598,888 as at the end of February. Sydney has the most expensive median price of $895,933, with Melbourne the second most expensive city at $717,767, and Canberra following at $706,454.
Sales volumes are on the rise
Whilst the quantity of properties currently on the market for sale is at a historically low level, the quarterly number of sales is up by approximately 35% when compared to 2020 (regional dwelling were up 41% while capital city sales were 32% higher).
Buyer demand has heated up considerably and now far exceeds the supply of houses for sale. Sellers are in a position of power as buyers vie for the limited stock on market.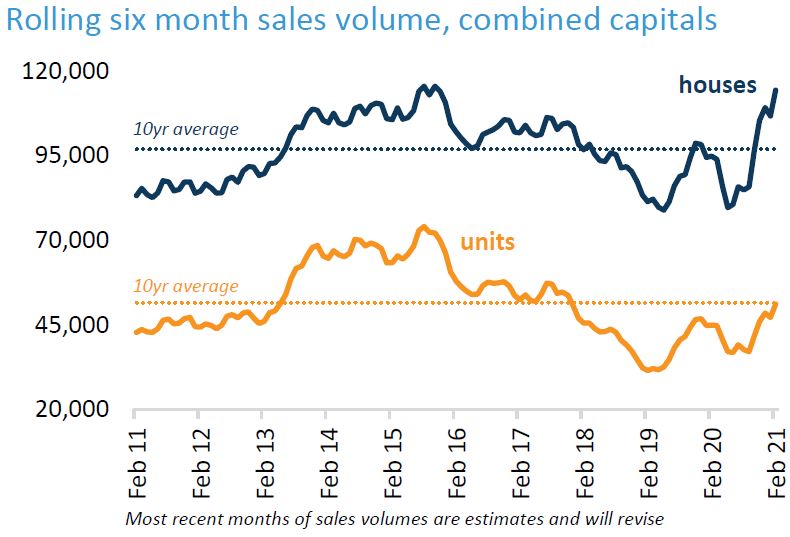 Source: CoreLogic Hedonic Home Value Index, 1 March 2021.
Michelle Delaney, CEO of Better Homes and Gardens Real Estate, stated that "for those contemplating the sale of their property, now is a very good time to be in market as auction clearance rates have been consistently above average, and buyers seem to be displaying a fear of missing out".
Rental market disparity
We are seeing very tight rental conditions across Perth and Darwin where rental growth over the past 12 months has exceeded 10%. In contrast, Sydney and Melbourne where the impacts of  COVID-19 have been greater have had rents fall by 5.3% and 8.0% respectively.
It is expected that the conditions across the Sydney and Melbourne unit markets will improve as more workers return to their offices in the inner cities, as well as workers from industries like food and hospitality returning to employment.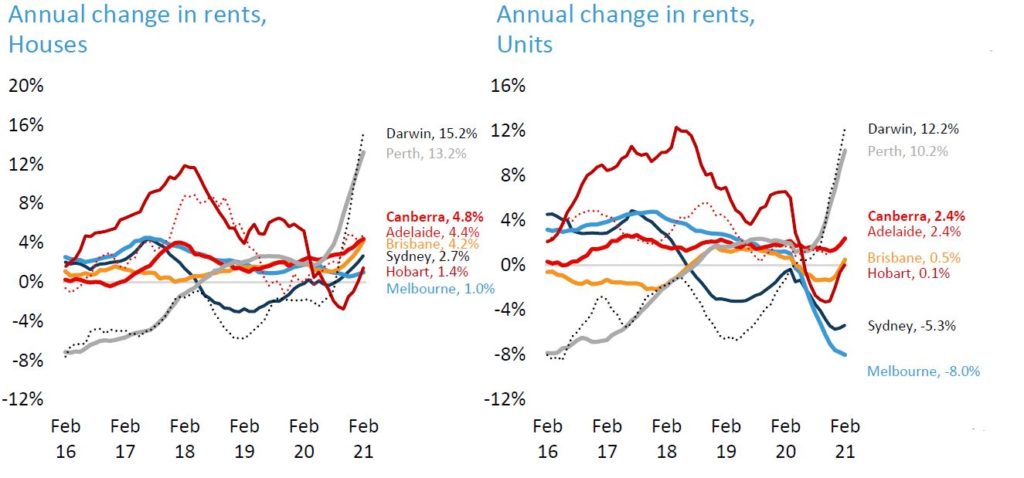 Source: CoreLogic Hedonic Home Value Index, 1 March 2021.
As a result of the current unit conditions, rental yields in Sydney and Melbourne are very low at 2.9% and 3%, especially against a backdrop of rising dwelling values. Other capitals however recorded gross rental yields of 4.5% or higher.
Summary
The CoreLogic Home Value Index Report notes that "Australia's housing market is now well entrenched in one
of the strongest growth phases on record". This while the world is battling a global pandemic!
Mortgage rates are expected to remain low for quote some time. Advertised properties for sale will also be low compared to previous years, although new listing numbers could see a lift from March onwards.
CLICK HERE TO DOWNLOAD THE FULL REPORT
Author: Frank Knez

Disclaimer: The opinions posted within this blog are those of the writer and do not necessarily reflect the views of Better Homes and Gardens® Real Estate, others employed by Better Homes and Gardens® Real Estate or the organisations with which the network is affiliated. The author takes full responsibility for his opinions and does not hold Better Homes and Gardens® Real Estate or any third party responsible for anything in the posted content. The author freely admits that his views may not be the same as those of his colleagues, or third parties associated with the Better Homes and Gardens® Real Estate network.