May at a glance
National housing values rose by 2.2% during the month of May compared to 1.8% in the previous month,
Growth in capital cities exceeded that of regional markets,
Properties advertised for sale continue to be below average and is driving FOMO,
Auction clearance rates remain high and days on market for private treaty sale are at very low levels,
Rents are still trending up across most regions.
Housing values
Low interest rates and an improving economy continue to drive consumer confidence and demand for housing. Hobart, Sydney and Darwin led the way with regards to increases in dwelling values, rising by 3.2%, 3.0% and 2.7% respectively.
Median house values exceed $500,000 across every capital city with the exception of Darwin. Buyers looking for a home in Sydney will have to pay about $970,355, while in Melbourne and Canberra it's in the vicinity of $740,000; making the challenge so much more difficult for first home buyers.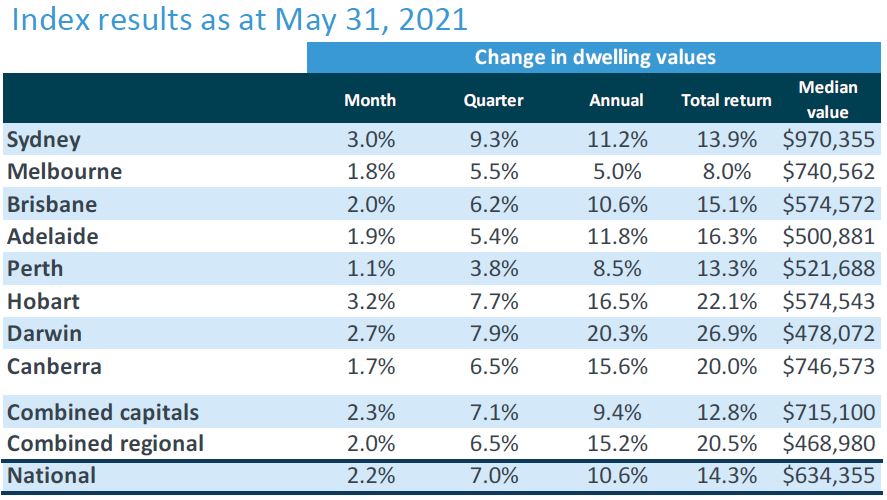 Source: CoreLogic Hedonic Home Value Index, 1 June 2021.
Prices across our capital city prices grew by 2.3% during May compared to 2.0% for regional markets, however still lagged on an annual basis where regional markets rose by 15.2% in the last 12 months while capital city prices only managed 9.4%. Greater acceptance of flexible working arrangements help boost the demand for property in the outer-fringes of capital cities.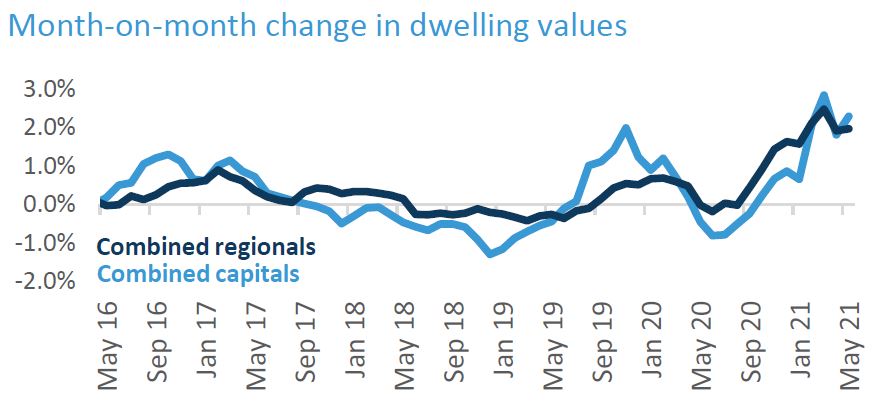 Source: CoreLogic Hedonic Home Value Index, 1 June 2021.
Strong Demand Continues
Low levels of inventory alongside strong buyer demand have ensured that auction clearance rates during May have remained high.  These clearance rates have averaged well above 70% in recent months, with some regions experiencing exceptionally high results such as:
Newcastle and Lake Macquarie NSW – 94.3%
Sutherland NSW – 90.7%
Northern Beaches NSW – 89.2%
Eastern Suburbs NSW – 87.1%
Geelong VIC – 84.4%
Source: CoreLogic Hedonic Home Value Index, 1 June 2021.
Metrics across private treaty sales also demonstrate the level of buyer demand in the current market. The median time a property spends on the market remains at a record low of 25 days which denotes buyers are swamping new listings and purchasing in a very short time frame.
Similarly, the amount of discounting by sellers is "also around record lows with the typical discount from the original asking price recorded at -2.7 over the past three months" according to CoreLogic.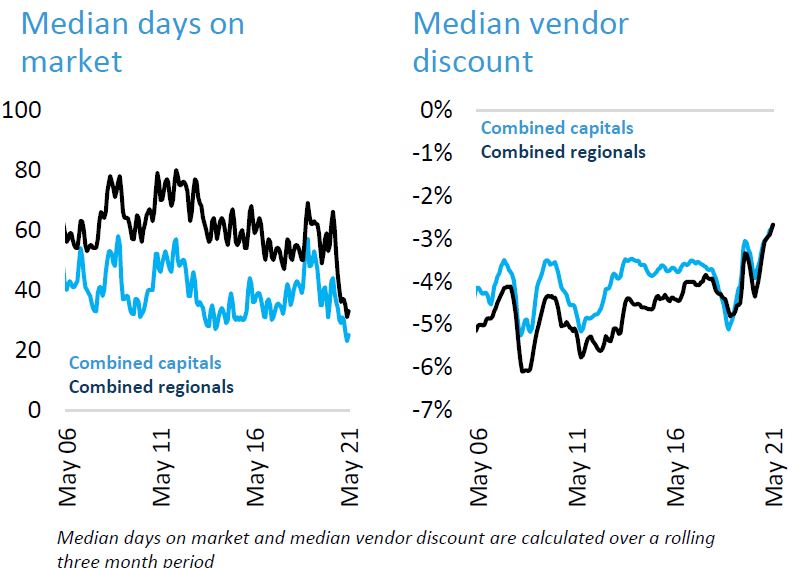 Source: CoreLogic Hedonic Home Value Index, 1 June 2021.
Summary
Housing values are expected to continue to increase over the coming months, although likely at a slower pace. Some of the heat seems to have come out of the market from the highs of March. Buyers who had a fear of missing out are now showing fear of paying too much.
CLICK HERE TO DOWNLOAD THE FULL REPORT
Author: Frank Knez

Disclaimer: The opinions posted within this blog are those of the writer and do not necessarily reflect the views of Better Homes and Gardens® Real Estate, others employed by Better Homes and Gardens® Real Estate or the organisations with which the network is affiliated. The author takes full responsibility for his opinions and does not hold Better Homes and Gardens® Real Estate or any third party responsible for anything in the posted content. The author freely admits that his views may not be the same as those of his colleagues, or third parties associated with the Better Homes and Gardens® Real Estate network.