This is hands down the easiest apple pie you will ever make, and also the fruitiest, thanks to the mixed berries. You just toss your filling ingredients in the roasting tray, pop squares of short crust pastry on top, bake, dish it up and accept all the compliments!
Ingredients
4 large Granny Smith apples, peeled, cored, cut into 3cm dice
300g bag frozen mixed berries
¼ cup caster sugar
1 Tbsp cornflour
Finely grated zest and juice of 1 large lemon
2 tsp vanilla extract
1½ sheets frozen short crust pastry
1 free-range egg, lightly beaten
2 Tbsp raw sugar
Icing sugar, to dust
Custard, to serve
Method
Preheat oven to 190°C fan-forced (210°C conventional). Put apple, berries, caster sugar, cornflour, lemon zest and juice, and vanilla in a 30 x 25 cm roasting tray and toss well.
Use a large knife to slice whole pastry sheet into 16 squares, and the half sheet of pastry into 8 squares.
Arrange pastry squares on top of fruit mixture, slightly overlapping. Brush with egg and sprinkle over raw sugar. Bake for 45 minutes, or until pastry is golden and fruit is tender.
Lightly dust with icing sugar and serve with custard on the side.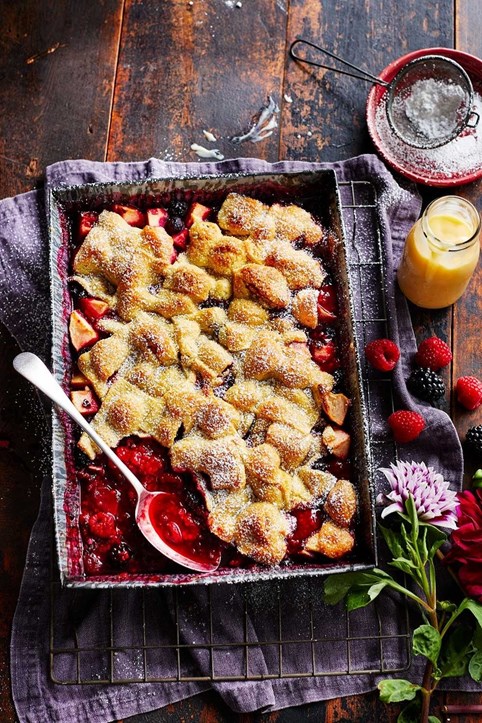 You might also like:
Disclaimer: The opinions posted within this blog are those of the writer and do not necessarily reflect the views of Better Homes and Gardens® Real Estate, others employed by Better Homes and Gardens® Real Estate or the organisations with which the network is affiliated. The author takes full responsibility for his opinions and does not hold Better Homes and Gardens® Real Estate or any third party responsible for anything in the posted content. The author freely admits that his views may not be the same as those of his colleagues, or third parties associated with the Better Homes and Gardens® Real Estate network.