August at a glance
Despite lockdowns across many states, national housing values rose by 1.5% in August,
Capital gains over the last 12 months has reached 18.4% at a national level, with a median value of $666,514,
Houses across the capital cities continue to show higher growth than units,
Covid-19 related restrictions and lockdowns have impacted the number is properties advertised for sale as well as buyer demand,
Rental growth has also tapered in recent months despite an 8.2% increase over the last 12 months.
Housing values
National dwelling values rose by 1.8% over the course of August driven by strong growth in Hobart (2.3%), Canberra (2.2%) and Brisbane (2.0%). Darwin saw their values go into negative territory (-0.1%) while the next lowest rise was in Melbourne (1.2%) where the lockdown has stifled real estate activity.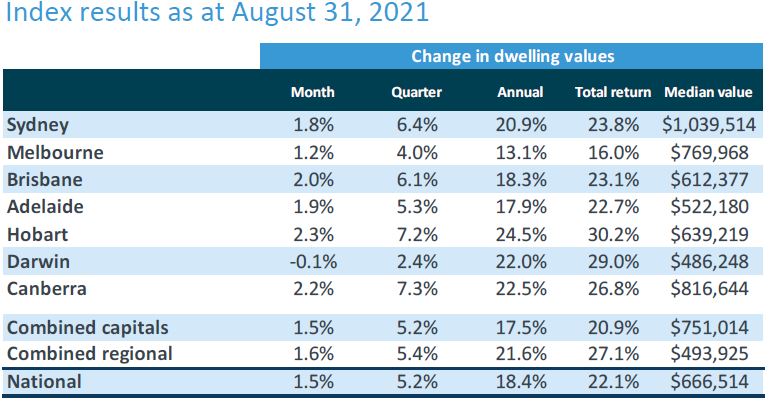 Source: CoreLogic Hedonic Home Value Index, 1 September 2021. Note: Perth and Regional WA values were excluded. from the table above while a review is performed on the divergence from other housing market measurements in WA
Values in regional areas performed marginally better than in capital cities in August, rising by 1.6% and 1.5% respectively. The combined regional has a median price of $493,925 compared to $751,014 in the combined capital cities and $666,515 nationally. 
The August numbers further indicate the flattening of housing values in recent months on the back of an extremely strong year where property prices increased by close to 11 times more than wages growth. "In dollar terms, the annual increase equates to approximately $103,400 or $1,990 per week. In comparison, Australian wages are rising at the average annual rate of 1.7%".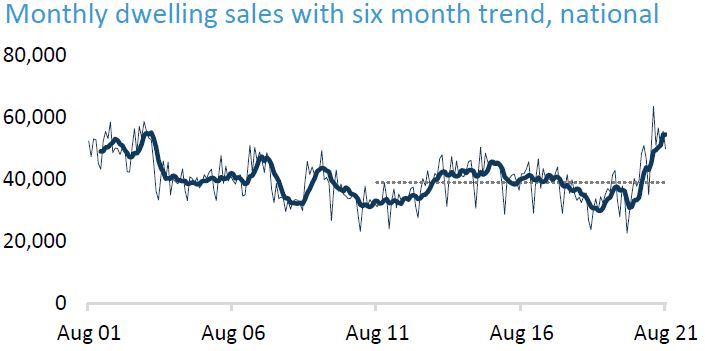 Source: CoreLogic Hedonic Home Value Index, 1 September 2021.
We have seen a considerable proportion of properties withdrawn from auction and not listed for sale as vendors opt to delay the sale until after lockdowns are lifted. Despite this, and with a greater number of properties selling prior to the auction, clearance rates and private treaty metrics are still performing above average.
Demand Exceeds Supply
With such low mortgage rates and very low quantity of new properties advertised for sale, those sellers who do not need to buy another property to move into are the ones capitalising on the heightened demand and hitting the market. The mindset is that despite restrictions, it is better to sell while there are less properties for buyers to choose from.
The number of days it takes to sell a property is slowly moving upwards, however we are continuing to see homes sell in 30 to 35 days. In addition, vendor discounting rates (the % a seller is willing to reduce the price of their property) remains at record lows as buyers are not offered much in the way of reduced pricing. Buyers will likely continue to compete for the low levels of available properties until the available stock starts to increase.
Source: CoreLogic Hedonic Home Value Index, 1 September 2021.
Rents Are Going Up
Rental growth may have softened a little recently but nationally remains strong with growth of 8.2% over the previous 12 months. The cost of renting houses in particular has risen by more than double that of renting units, up 9.9% and 4.0% respectively. This is most evident in our largest and most COVID impacted cities of Sydney and Melbourne. Perth and Darwin are the strongest rental markets at the moment where the rate of rental growth may have peaked, whereas in the other capitals they are still on their upward climb.

Source: CoreLogic Hedonic Home Value Index, 1 September 2021.
The discrepancy between the annual increase in property prices of 18.4% and the corresponding increase in rents of 8.2% highlight the continued compression of yields to investors. Nationally we have seen gross rental yields fall to a historic low of 3.3%.
Summary
The rate of house price growth has continued to trend lower after peaking in March, and will likely continue to do so in the last few months of the 2021. Low levels of stock remain, although it is expected that once lockdowns are lifted in Sydney and Melbourne there will be a spike in new properties advertised for sale.
With house prices already elevated, affordability constraints become the concern for would-be buyers which means that once the supply of new advertised stock picks up, it is not certain whether the same level of buyer demand will exist post lockdown.
CLICK HERE TO DOWNLOAD THE FULL REPORT
Author: Frank Knez

Disclaimer: The opinions posted within this blog are those of the writer and do not necessarily reflect the views of Better Homes and Gardens® Real Estate, others employed by Better Homes and Gardens® Real Estate or the organisations with which the network is affiliated. The author takes full responsibility for his opinions and does not hold Better Homes and Gardens® Real Estate or any third party responsible for anything in the posted content. The author freely admits that his views may not be the same as those of his colleagues, or third parties associated with the Better Homes and Gardens® Real Estate network.