Now that you've put up the Christmas tree in the living room and the personalised stockings over the fireplace, it's time to start decorating the outside of your home as well.
Christmas is the most wonderful time of the year, but with a sprinkling of extra-special touches in your great outdoors, you can ensure this season's festivities are celebrated in true style. Here are 7 of our best outdoor Christmas decorating ideas to get you started.
1. Ring in the season
Suspend a wreath on your front door to welcome your guests and boost your Christmassy kerb appeal. Whether you choose a wreath made of artificial foliage, make your own with fresh-cut garden cuttings or opt for something a little more contemporary — don't forget the lights for that extra dose of sparkle! Shop for a battery-powered string of fairy lights that you can switch on as the sun goes down — just tuck the battery pack behind the wreath! To hang your wreath, buy a purpose-made hanger or suspend it from a removable self-adhesive picture hanging hook with a loop of fishing line or twine.
2. Growing colour
Create a charming Christmas scene by your front door with a display of potted plants that echo the colour scheme of the season. Look for shrubs with red and green foliage, or flowering plants that boast white and red blooms, such as the ever-popular poinsettia or Christmas bush. Add extra cheer by sealing and then painting classic terracotta pots in red, white or green exterior paint.
3. Candy cane lane
Give your front pathway a magical, Christmas wonderland spin by pushing large candy cane decorations into each side of the walkway, from the front gate to your front door. For extra festive impact, shop around for models that glow in the dark or other types of Christmas-themed stake lights. Psst… Put a spin on this idea by swapping candy cane decos for outdoor lanterns filled with battery-powered twinkle lights.
4. Lights, carols, action!
If you wish to create a show-stopping front of house display, you can't go past lights — and lots of them! Shop for outdoor-rated lights in a colour scheme you love. Try fitting white fairy lights along the main architectural lines of your home, placing coloured fairy lights in shrubs and trees and then positioning inflatable Christmas characters that light up at night for extra oomph. There's no way that the big man in the red suit will miss your place this year!
5. Deck out the deck
Are you hosting the whole crew at your place this Christmas Day? If so, why not set up a tree on your deck or in your outdoor undercover area? Just make sure your real or imitation tree is nice and stable, weave in a string of outdoor lights, then add the tree-topper and decos. Gifts can be placed under the tree on Christmas morning to celebrate in true Aussie style. Season's greetings to you!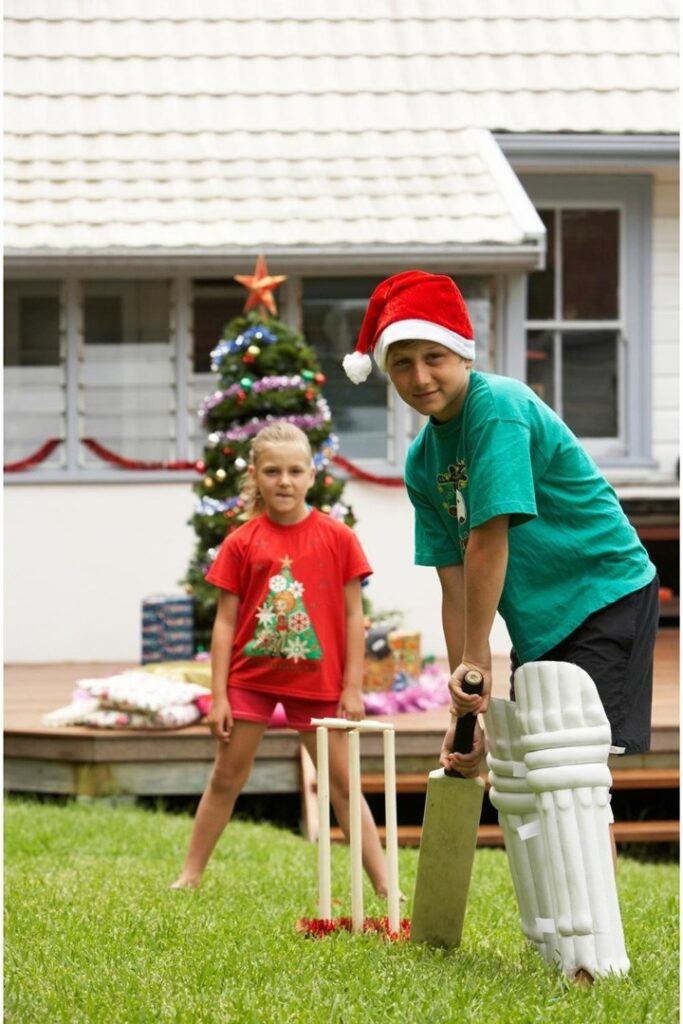 6. A festive welcome
Give a warm festive welcome from the front door with a Christmas doormat. Its a great way to keep your hallway clean while still adding a nice Christmas touch to your home. When shopping for a doormat, look for one with a non-slip back to ensure it stays in place for all of December.
7. Festive planter boxes
Change up the flowers in your planter box with a Christmas theme. Trimmings from the tree, a touch of red and some silver baubles are all you'll need for a traditional-style display. Add in a few native flowers for a nice Aussie touch as well.
Disclaimer: The opinions posted within this blog are those of the writer and do not necessarily reflect the views of Better Homes and Gardens® Real Estate, others employed by Better Homes and Gardens® Real Estate or the organisations with which the network is affiliated. The author takes full responsibility for his opinions and does not hold Better Homes and Gardens® Real Estate or any third party responsible for anything in the posted content. The author freely admits that his views may not be the same as those of his colleagues, or third parties associated with the Better Homes and Gardens® Real Estate network.