Gorgeous and green in colour, these festive meringues will go down a treat.
You can use these adorable little trees as table decorations until it's time for dessert. These mini trees also look great on top of cakes or festive cupcakes.
Ingredients
3 free-range egg whites
¾ cup sugar
¼ tsp cream of tartar
⅛ tsp salt
Green food colouring paste or gel
Red, white and green sprinkles
Method
Follow Steps 1 and 2 of Meringue Santa Hats except beat in the same amount of green food colouring paste or gel.
Spoon meringue into a new disposable pastry bag fitted with a large star or round tip. Pipe meringue into 3cm tall spirals that are wider at the base and narrower at the top.
Lightly cover with sprinkles of choice. Bake and cool as in Step 3 of Santa hats (if making larger trees, bake for 1½ hours). If desired, sift powdered sugar over finished trees for a snowy effect.
Store at room temperature in an airtight container for up to 3 days, layered between baking paper, or freeze for up to 3 months.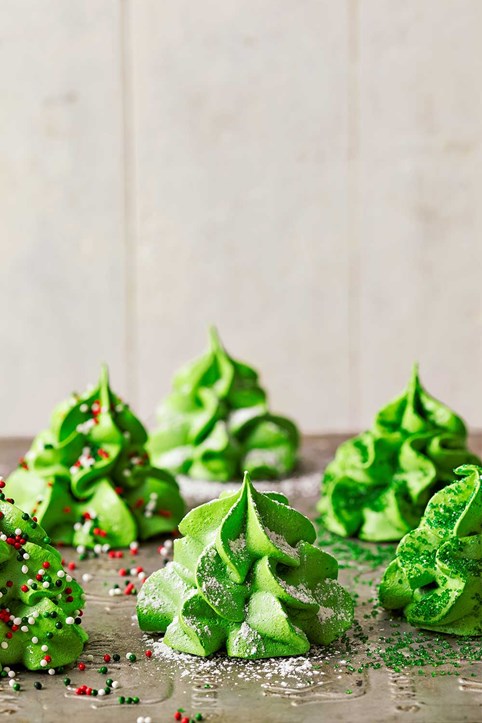 Disclaimer: The opinions posted within this blog are those of the writer and do not necessarily reflect the views of Better Homes and Gardens® Real Estate, others employed by Better Homes and Gardens® Real Estate or the organisations with which the network is affiliated. The author takes full responsibility for his opinions and does not hold Better Homes and Gardens® Real Estate or any third party responsible for anything in the posted content. The author freely admits that his views may not be the same as those of his colleagues, or third parties associated with the Better Homes and Gardens® Real Estate network.