Welcome to our September 23 Property Market Snapshot.
September at a glance
Australia's housing market is robust, with dwelling values just 1.3% below their peak, capital city values up by 7.4% in the first nine months, and regional values rising by 2.6%

Among capital cities, Adelaide saw the highest capital gain at 4.3%, followed by Brisbane at 3.9%, while Hobart experienced a -0.2% decline.

Regional markets are lagging behind capital cities, with a 1.1% increase in dwelling values.

Rental rates increased by 0.7% in September, bringing the year-to-date increase to 6.4% and the 12-month increase to 8.4%, with record-low vacancy rates in capital cities.
Dwelling values
In September, the national Home Value Index (HVI) reported a 0.8% increase in September, marking the eighth consecutive month of growth. This uptick followed a 0.7% rise in August (which was revised down from 0.8%), bringing the quarterly growth in national home values to 2.2%. This quarterly growth has slowed compared to the 3.0% gain in the June quarter, primarily due to an increase in advertised stock levels.
In the September, Adelaide saw the highest capital gain at 4.3%, followed by Brisbane at 3.9% and Perth at 3.6%. On the opposite end of the growth spectrum is Hobart, where values declined by -0.2% over the quarter, taking the southern capital to a new cyclical low.
Tim Lawless, CoreLogic's research director, pointed out that the performance of the housing market in each city is closely tied to the underlying supply dynamics. He noted, "The three capitals experiencing the highest capital gains each have advertised supply levels that are approximately 40% lower than their previous five-year averages. In contrast, advertised supply levels in Hobart, where values are still decreasing, have been consistently above average since June of the previous year and were nearly 40% higher than its five-year average."
Since reaching a low point in January, the national index has rebounded by 6.6%. However, home values remain 1.3% below the record highs recorded in April of the previous year.
Looking into the details, the upper quartile of the capital city housing market has experienced a slowdown in the pace of growth after initially leading the recovery cycle. The quarterly growth rate across upper quartile dwellings has decreased to 2.3%, while the lower quartile growth rate has accelerated to 3.2%.
In more expensive cities like Sydney and Melbourne, the middle of the market is now experiencing the highest growth rate after initially being led by the upper quartile.

Source: CoreLogic Hedonic Home Value Index, 2 October 2023.
Regional markets are still trailing behind the capital cities, with every "rest of state" region experiencing weaker growth conditions compared to their capital city counterparts in the September quarter. On a broader scale, combined regional markets saw a 1.1% increase in dwelling values during the September quarter, which was less than half of the gain in the combined capital city market (2.5%).
Most regional markets are also showing relatively low advertised supply levels, which have exerted upward pressure on values. However, regional Victoria and regional Tasmania are exceptions, where advertised supply is above average, leading to declining housing values over the quarter.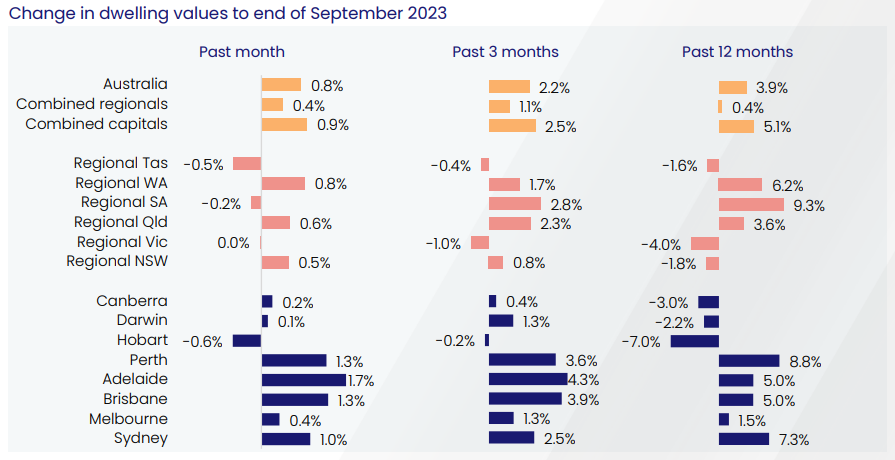 Source: CoreLogic Hedonic Home Value Index, 2 October 2023.
Rental market
In September, national rents rose by 0.7%, bringing the year-to-date increase to 6.4% and the 12-month increase to 8.4%. Vacancy rates dropped to record lows of 1.0% in capital cities and 1.2% in regional areas.
Capital city vacancy rates ranged from 0.3% in Adelaide to 2.5% in Hobart. The rental market remains tight nationwide, with vacancy rates well below the pre-COVID average of 3.1%, which could lead to increased homelessness.
Despite tighter vacancy rates, rental growth is slowing in most markets. Quarterly increases in the combined capital cities dropped to 1.9% in the September quarter, down from 2.7% in the June quarter and 2.9% in the first quarter. Annual rental growth is still high at 10% over the past 12 months but has peaked.
This slowdown in rental growth is likely due to affordability constraints, leading to changes in household formation, including the reformation of group rental households. As rental growth slows and housing values rise, gross rental yields have slightly declined over the past five months.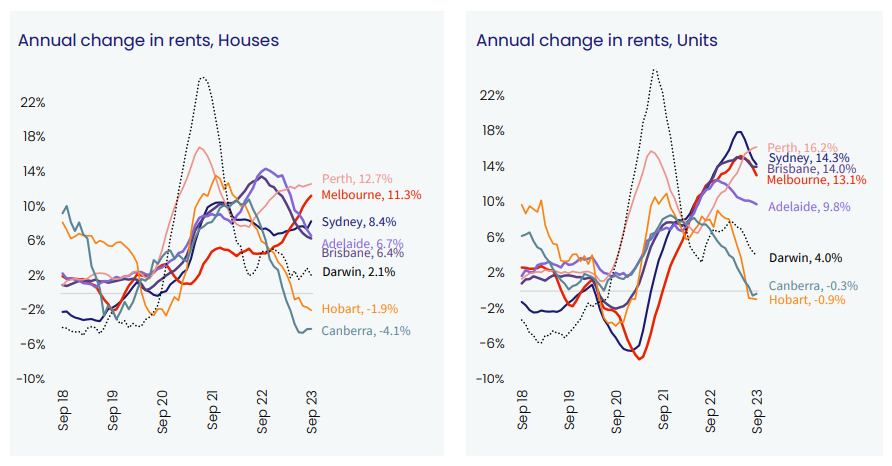 Source: CoreLogic Hedonic Home Value Index, 2 October 2023.
Outlook
Australia's housing market remains robust, with national dwelling values only 1.3% below their peak. Capital city property values have surged by 7.4% in the first nine months of the year, while regional values have seen a 2.6% increase. However, the upward trend in values is posing affordability challenges, as a greater portion of income is required to cover mortgages and rents.
The outlook for the housing market remains positive, though there are potential concerns, particularly regarding the rising supply of listed properties. While increased listings may offer more choices to buyers and potentially enhance their negotiation power, a substantial surge in buying activity may necessitate a reduction in barriers to entry into the housing market.
Households are grappling with financial pressures stemming from elevated living costs and interest rates. Although mortgage arrears have been relatively controlled so far, the possibility of an uptick exists as some households deplete their savings. Despite a less robust economic environment, unemployment is expected to stay relatively low.
A housing supply shortage persists, further compounded by low dwelling approvals and a growing population. Despite government efforts to encourage housing supply, challenges such as high costs and a scarcity of skilled labour have hampered progress. Nevertheless, this housing shortage is likely to underpin property values over the medium term.
CLICK HERE TO DOWNLOAD THE FULL REPORT

Disclaimer: The opinions posted within this blog are those of the writer and do not necessarily reflect the views of Better Homes and Gardens® Real Estate, others employed by Better Homes and Gardens® Real Estate or the organisations with which the network is affiliated. The author takes full responsibility for his opinions and does not hold Better Homes and Gardens® Real Estate or any third party responsible for anything in the posted content. The author freely admits that his views may not be the same as those of his colleagues, or third parties associated with the Better Homes and Gardens® Real Estate network.