How much you should spend on gifts and who to buy for – by Laura Barry
Have you ever wondered if you should buy your work colleague a gift? Or what the appropriate amount of money to spend on a gift was? Maybe you've wondered if everyone spends Christmas with their family or with friends, or even if you're the only person who leaves gift shopping to the last minute? Never fear, we have scoured the web to find the data that will answer every question you have about Christmas.
How much should I spend on Christmas gifts?
Data collected by Finder.com.au suggests that the average Australian person will spend about $1325 individually on Christmas, and predicts that Gen X will spend the most, while Baby Boomers spend the least. Finder's data suggests we spend about $464 each on gifts, and that on average, women spend more money on gifts than men, splashing out up to $496 on friends and family, while men spend $432.
Who should I buy gifts for?
Retail discount code generator Picodi recently asked their analysis team to find out what the Christmas rush looks like for the average Australian. Picodi found that In Australia, 74%of people buy gifts for relatives, 54% buy gifts for friends, 14% buy gifts for workmates and only 7% donate gifts to charity.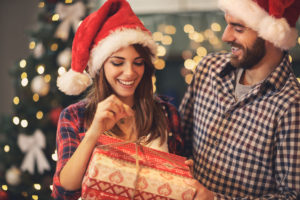 What are the best, and worst, gifts to give?
Picodi reported that the top four gifts to receive were money, gift cards, electronics and clothing, while the four worst gifts were listed as toys, sweets, alcohol and footwear. The survey also discovered that 46 per cent of us like to ask the gift-recipient what they want before buying for them, while 27 per cent of us buy gifts on a whim.
When should I start Christmas shopping?
Aussie's also seem to like leaving buying gifts to the last minute, with 43 per cent reporting that they don't start shopping until December, and only 19 per cent of us buy gifts and advance.
Where do most people spend Christmas?
Picodi's results suggest 36 per cent of Australians spend Christmas with friends, while 64 per cent reported spending the festive holiday at home,
How much does food cost on Christmas Day?
Picodi reports that Aussie's are spending around $185 on food specifically for Christmas Day. Finder took the food investigation one step further and found that a Christmas ham will grace half the tables of Australians celebrating Christmas, only one third of Christmas households will eat turkey.
How much should I spend on alcohol?
Finder suggests that most Aussie's celebrating Christmas will spend around $131 on alcohol.
https://www.bhg.com.au/christmas-questions-answered?category=christmas_decorating_tips_traditions
Disclaimer: The opinions posted within this blog are those of the writer and do not necessarily reflect the views of Better Homes and Gardens® Real Estate, others employed by Better Homes and Gardens® Real Estate or the organisations with which the network is affiliated. The author takes full responsibility for his opinions and does not hold Better Homes and Gardens® Real Estate or any third party responsible for anything in the posted content. The author freely admits that his views may not be the same as those of his colleagues, or third parties associated with the Better Homes and Gardens® Real Estate network.