December at a glance
Our housing market finished 2020 strongly with the national home value rising by 1.0% for the month
On an annual basis, housing values nationally rose 3.0% despite the challenges of COVID
The number of buyers in the market increased dramatically in the second half of the year
Record low interest rates and government policy were key contributors to a resilient housing market.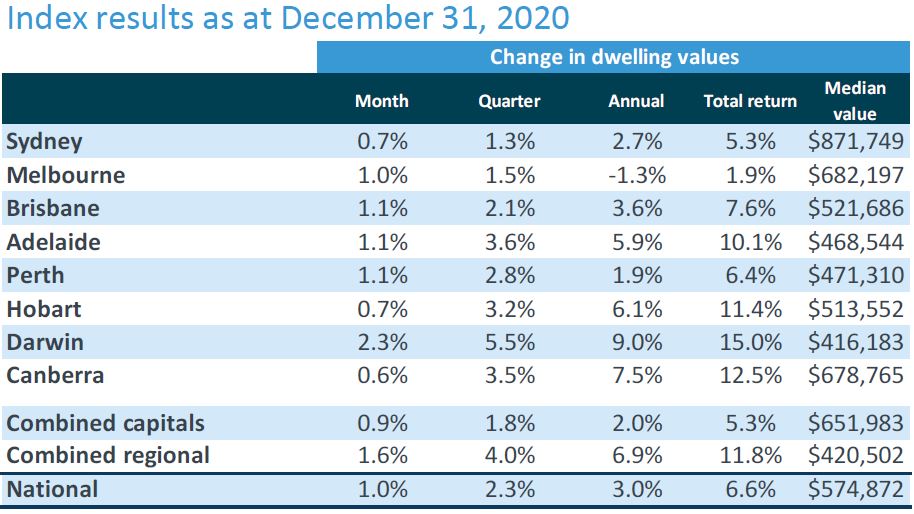 Source: CoreLogic Hedonic Home Value Index, 1 January 2021.
The smaller capitals of Darwin, Canberra, Hobart and Adelaide performed the best over the course of 2020 with regards to house price growth. All achieved a greater than 5.0% increase in value, as did the combined regional areas which became more popular due to greater prevalence of remote working opportunities and a demand for lower density housing.
As expected, Sydney dwelling prices remain the most expensive of all the capitals with a median value of $871,749, ahead of Melbourne at $682,197 which was followed closely by Canberra at $678,765.
The bars on the right side of the chart below illustrate the turnaround in housing values following the months of negative growth brought on by the impacts of COVID19.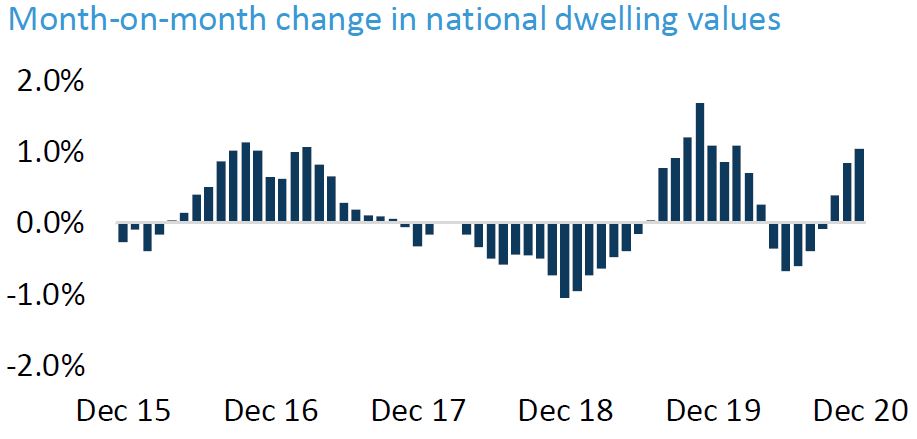 Source: CoreLogic Hedonic Home Value Index, 1 January 2021.
On the rental side we have seen outcomes depend on the property type and geography. The change in rents over 2020 were strongest in Perth and Darwin where they increased by up to 10% for houses and 7.6% for unit. CoreLogic's research director, Tim Lawless noted that "with stronger interstate migration driving housing demand, rental rates have been under substantial upwards pressure as demand for rentals outweighs supply".
The Melbourne and Sydney unit markets experienced weakened demand and high supply which resulted in a sharp drop in rents. Inner city unit rentals were greatly impacted by an aversion to high density living and stalled overseas migration which resulted in Melbourne unit rents dropping by 7.6% over the year, and Sydney unit rents down 5 .7%. Similar conditions are expected to continue until such time as overseas migration recommences and current stock levels are absorbed.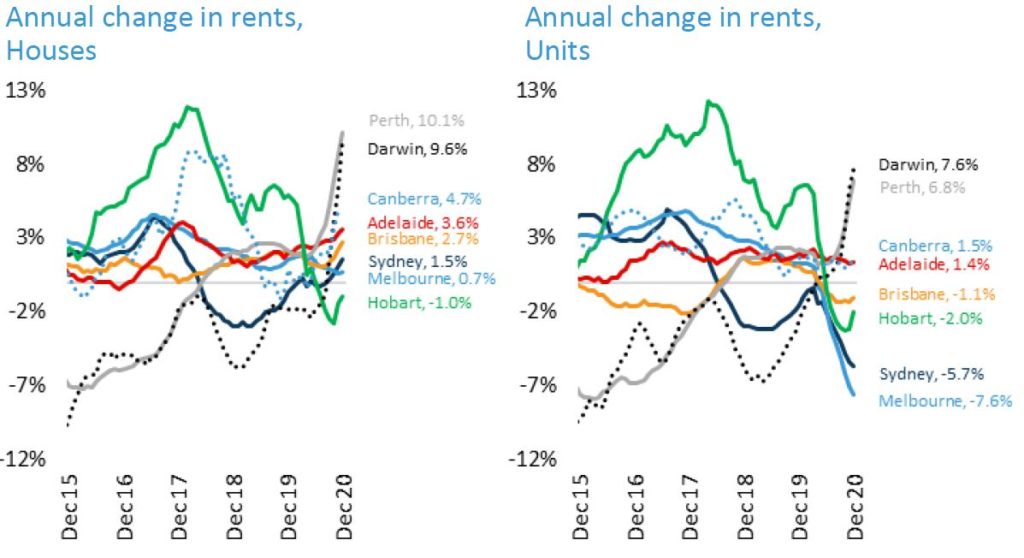 Source: CoreLogic Hedonic Home Value Index, 1 January 2021.
Our housing sector is set to be positive as we move into 2021, with the greatest risk being further restrictions associated with a COVID outbreak and the reduction in government support which could temporarily impact the market.
CLICK HERE TO DOWNLOAD THE FULL REPORT
Author: Frank Knez

Disclaimer: The opinions posted within this blog are those of the writer and do not necessarily reflect the views of Better Homes and Gardens® Real Estate, others employed by Better Homes and Gardens® Real Estate or the organisations with which the network is affiliated. The author takes full responsibility for his opinions and does not hold Better Homes and Gardens® Real Estate or any third party responsible for anything in the posted content. The author freely admits that his views may not be the same as those of his colleagues, or third parties associated with the Better Homes and Gardens® Real Estate network.