The crunchy and chewy biscuit of rolled oats, butter and golden syrup is essential ANZAC Day fare, but for a delicious twist, this slice recipe combines it with chocolate and caramel.
Make a batch and enjoy a piece with a strong cuppa.
Cook's tip!
• Want to spice things up? Add ½ tsp each of ground ginger and cinnamon in Step 2.
• You can store the slice in a cool, dry place in an airtight container for up to 1 week.
Ingredients
• Cooking oil, to grease
• ¾ cup rolled oats
• ¾ cup plain flour
• ½ cup firmly packed dark brown sugar
• ½ cup shredded coconut
• 75g unsalted butter, chopped
• 1 Tbsp golden syrup
• ½ tsp bicarbonate of soda
• 1 Tbsp boiling water
• 200g dark chocolate melts, melted
• Chocolate and caramel toppings, to drizzle (optional)
Caramel filling
• 50g unsalted butter, chopped
• ¼ cup golden syrup
• 395g can sweetened condensed milk
Note: Allow 30 mins cooling and 6 hours chilling
Method
1. Preheat oven to 160°C. Grease a 20 x 30cm lamington tin with cooking oil and line base and sides with baking paper.
2. Combine oats, flour, sugar and coconut in a large bowl. Make a well in the centre and set aside.
3. Put butter and golden syrup in a small saucepan over a low heat. Cook, stirring occasionally, for 3 minutes or until melted and simmering. Stir in bicarb and boiling water then remove from heat.
4. Pour into well in oat mixture and stir to create a crumbly mixture.
5. Spoon mixture into prepared tin. Use back of a large spoon to smooth. Bake for 20 minutes or until light golden. Set aside to cool in tin for 5 minutes.
6. Meanwhile, to make caramel filling, put butter and golden syrup in a medium saucepan over a high heat. Cook, stirring occasionally, until butter has melted. Bring to the boil and cook for 1 minute. Reduce heat to medium and add condensed milk. Cook, stirring vigorously, for 4 minutes or until mixture has thickened and slightly darkened. Pour hot mixture over warm oat base and spread evenly. Bake for 10 minutes or until caramel is bubbling and light golden. Set aside for 30 minutes to cool.
7. Pour melted chocolate over slice and smooth surface. Refrigerate for 6 hours or overnight. Use a large warm knife to cut into 24 squares. Serve drizzled with chocolate and caramel toppings, if using.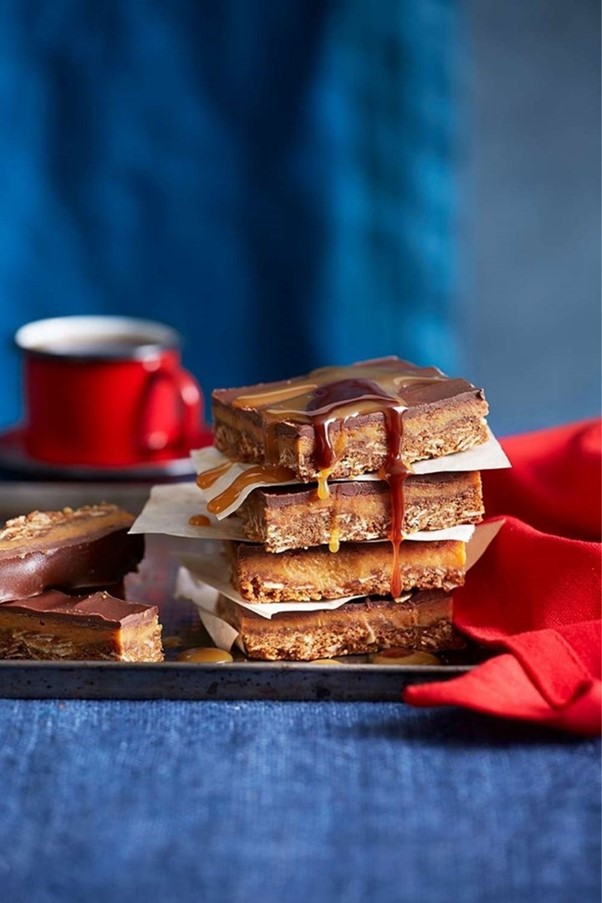 You might also like:
Disclaimer: The opinions posted within this blog are those of the writer and do not necessarily reflect the views of Better Homes and Gardens® Real Estate, others employed by Better Homes and Gardens® Real Estate or the organisations with which the network is affiliated. The author takes full responsibility for his opinions and does not hold Better Homes and Gardens® Real Estate or any third party responsible for anything in the posted content. The author freely admits that his views may not be the same as those of his colleagues, or third parties associated with the Better Homes and Gardens® Real Estate network.