April at a glance
National housing values rose by 1.8% during the month of April,
We are seeing some easing in capital gains from the 2.8% recorded in March,
Growth was almost identical across capital city and regional markets,
The number of new properties advertised for sales in recent months has exceeded 2020 levels,
Rental yields have fallen to a record low of 3.5% due to rents not keeping pace with house prices.
Housing values
Despite the slower growth rate last month, housing values continue to increase at a fast rate, 6.8% just over the last quarter. This would impact certain sectors of the market more than others, particularly first home buyers and households with lower incomes who will struggle to accumulate the deposit required to purchase a property.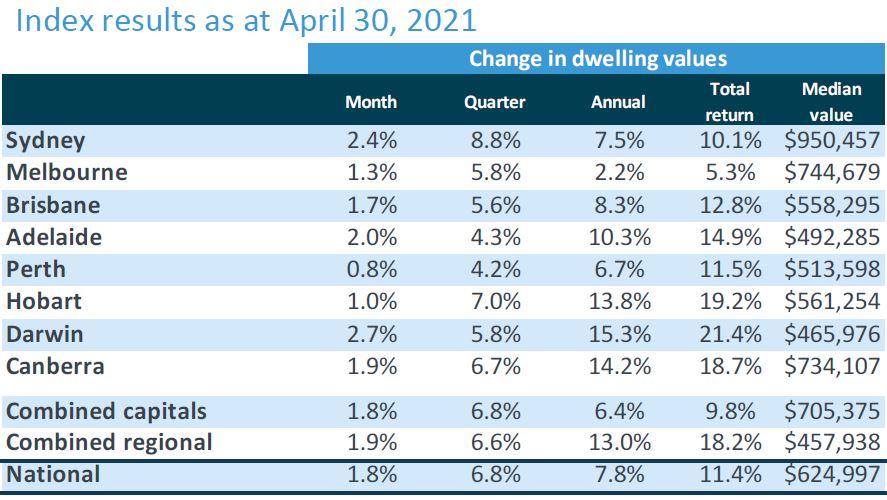 Source: CoreLogic Hedonic Home Value Index, 3 May 2021.
The table above shows every capital city to have had an increase in dwelling values over the month. The greatest increase was in Darwin (2.7%) followed by Sydney (2.4%) and Adelaide (2.0%). We now have a median dwelling value in the combine capital cities of $705,375 and in regional markets $457,938.
Interestingly, over the past three months, the upper quartile of capital city housing markets (top 25% of properties based on value)  increased by over twice the rate of properties in the lower quartile, the former rising by 8.8% compared to 4.1% for the latter.
Source: CoreLogic Hedonic Home Value Index, 3 May 2021.
New listings starting to increase
Greater acceptance of flexible working arrangements has seen demand for property to grow  around the outer-fringes of capital cities. This coupled with strong demand within metropolitan areas means that even the heightened number of new listings has not enabled stock levels to recover from the current low.
Simply put, new properties advertised for sale have increased in previous months, but is being swallowed up quickly by motivated buyers.
The good news is that the rise in new properties hitting the market are a reflection of vendor confidence. According to CoreLogic, there were 40,630 new residential property listings nationally over the four weeks ending April 25.
"Prospective vendors are likely becoming more motivated to test the market thanks to such strong selling conditions as well as housing prices pushing to new record highs in most areas," said Tim Lawless, Research Director at CoreLogic.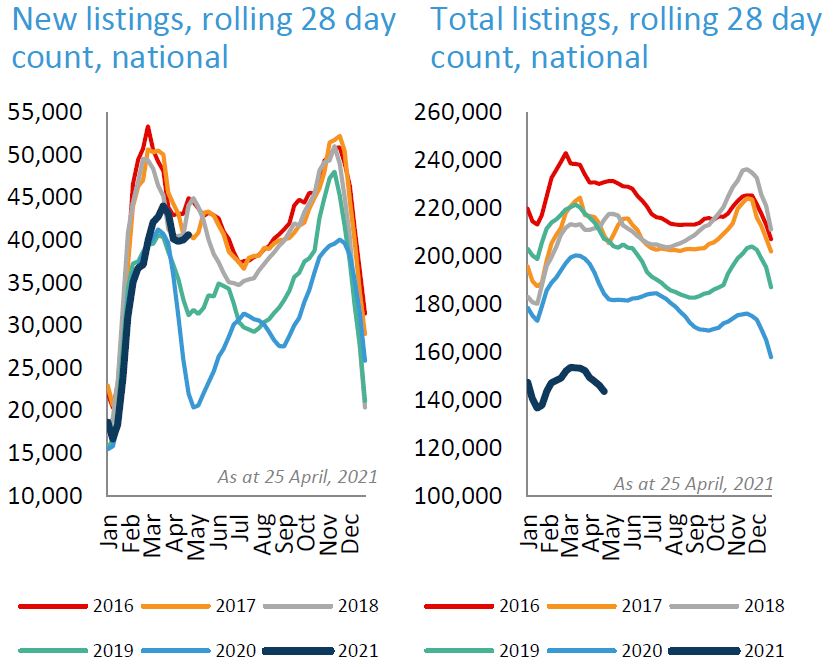 Source: CoreLogic Hedonic Home Value Index, 3 May 2021.
Rental demand
The annual change in rents has increased significantly in the cities of Darwin and Perth, moderately in Canberra, Brisbane, Adelaide and Hobart, and to  afar lower degree in the markets of Sydney and Melbourne.
With dwelling values rising faster than rents, the yields achieved by investors have fallen nationally to  record low of 3.5%, compared to 3.7% a year ago. This is most prominent in Sydney where the gross yield is 2.7%, and Melbourne where they average 2.9%.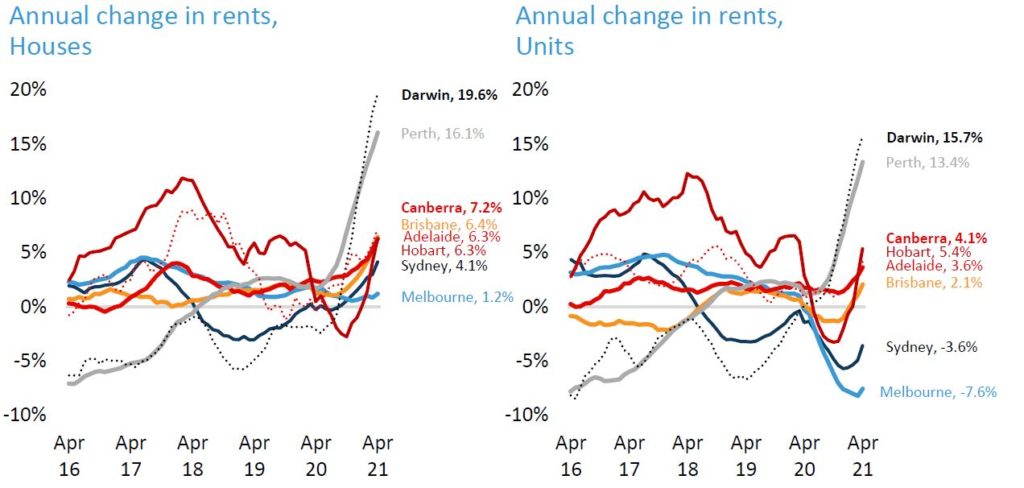 Source: CoreLogic Hedonic Home Value Index, 3 May 2021.
CLICK HERE TO DOWNLOAD THE FULL REPORT
Author: Frank Knez

Disclaimer: The opinions posted within this blog are those of the writer and do not necessarily reflect the views of Better Homes and Gardens® Real Estate, others employed by Better Homes and Gardens® Real Estate or the organisations with which the network is affiliated. The author takes full responsibility for his opinions and does not hold Better Homes and Gardens® Real Estate or any third party responsible for anything in the posted content. The author freely admits that his views may not be the same as those of his colleagues, or third parties associated with the Better Homes and Gardens® Real Estate network.