June at a glance
National housing values in June rose 1.9% continuing the upward movement throughout 2021,
Growth over the previous 12 months was 13.5% at a national level, higher in regional areas where they rose 17.7% compared to 12.4% in capital cities,
Properties at the high end of the price scale are seeing a greater softening in capital gains,
CoreLogic estimates that ~582,900 sales occurred from July 2020 which is the highest since February 2004,
Rents values are continuing to see solid increases.
Housing values
The housing market saw off the financial year with a rise in national values of 1.9%, driven by Sydney and Canberra where the capital gain was 2.6% and 2.3% respectively.
Annual house price increases were greatest in Darwin (21%), Canberra (18.1%), and Sydney (15%), the latter seeing its median house price near the one million mark.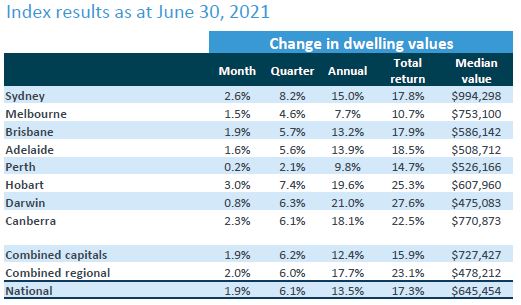 Source: CoreLogic Hedonic Home Value Index, 1 July 2021.
Head of Research at CoreLogic, Eliza Owen commented "This is the highest annual rate of growth seen across the Australian residential property market since April 2004, when the early 2000's housing boom was winding down after a period of exceptional growth."
Median house values continue to rise across all states. Sydney buyers are expecting to pay $994,298 for a property, while in Brisbane it will cost $586, 142, and $475,083 in Darwin.
Not Enough Stock
The strong demand seen in the last 6 months have not been met with enough supply to allow prices to plateau. Total advertised stock continues to be low as is evident with the red line in the below chart, right side.
Until the number of properties available for sale starts to increase, it is expected that buyers will compete for the available stock and drive up prices further, albeit as a less frantic pace to what we saw in March of this year when the rate of growth peaked.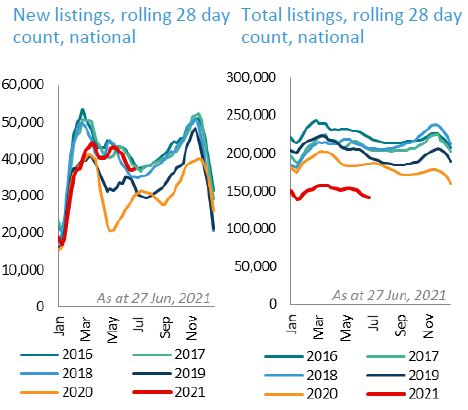 Source: CoreLogic Hedonic Home Value Index, 1 July 2021.
Auction clearance rates remained high during the month of June, as did the metrics across private treaty sales. The median time a property spends on the market remains at a record low of 25 days, while seller discounting has been steady at -2.7 over the past quarter.
Rent Values Climbing
Rent values have continued their growth during June however gross rental yields are compressed due to the high housing values. In the year to June, rents increased 6.6% which is the best performance since February 2009. This is in sharp contrast to what was evident following the onset of COVID.
The highest annual growth in rent was in Darwin (21.8%), followed by Perth (16.7%), and Hobart and Brisbane where they rose 8.5% and 8.4% respectively.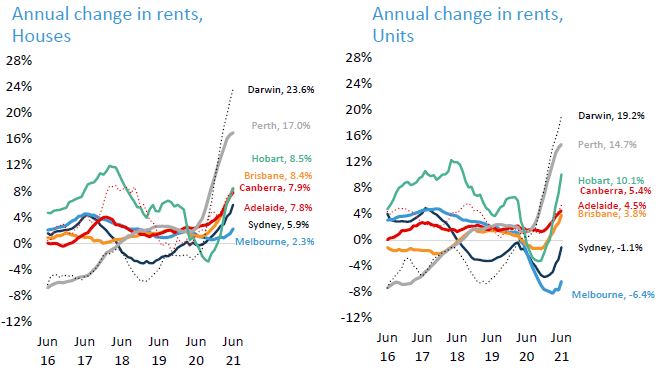 Source: CoreLogic Hedonic Home Value Index, 1 July 2021.
Summary
The housing market has shown great resilience throughout COVID and performed in sharp contrast to many of the early predictions of up to 30% reduction in value. The restrictions imposed by state and territory governments to combat the various COVID clusters may have some impact over July, however it is potential of tighter lending conditions and rising interest rates that will be the main concern for the property market performance in the second half of 2021.
CLICK HERE TO DOWNLOAD THE FULL REPORT
Author: Frank Knez

Disclaimer: The opinions posted within this blog are those of the writer and do not necessarily reflect the views of Better Homes and Gardens® Real Estate, others employed by Better Homes and Gardens® Real Estate or the organisations with which the network is affiliated. The author takes full responsibility for his opinions and does not hold Better Homes and Gardens® Real Estate or any third party responsible for anything in the posted content. The author freely admits that his views may not be the same as those of his colleagues, or third parties associated with the Better Homes and Gardens® Real Estate network.