Rich and hearty comfort food – by Sarah Murphy
Ingredients
2 Tbsp olive oil
4 lamb shanks, trimmed
1 onion, chopped
2 carrots, finely chopped
2 stalks celery, finely chopped
2 Tbsp tomato paste
1 long red chilli, thinly sliced
2 garlic cloves, crushed
4 cups vegetable stock
2 cups water
½ cup pearl barley
1 Tbsp chopped rosemary leaves
Parsley leaves, to serve'
Method
In large heavy-based saucepan, heat oil on high. Brown lamb shanks, 3-4 mins, turning. Remove from pan.
Using same pan, reduce heat to medium. Saute onion, carrot and celery 5-6 mins until softened and lightly golden. Add paste, chilli and garlic, and cook min, stirring.
Mix in stock, water, barley and rosemary. Return lamb shanks to pan and bring to boil on high heat. Reduce heat to low. Simmer, covered, 2 hours until lamb is very tender.
Remove shanks from pan. When cool enough to handle, shred meat from bones.
Return meat to pan and heat through. Season to taste. Sprinkle with parsley to serve.
Cook's tip
Replace shanks with forequarter chops, reducing cooking in step 3 by 30 minutes.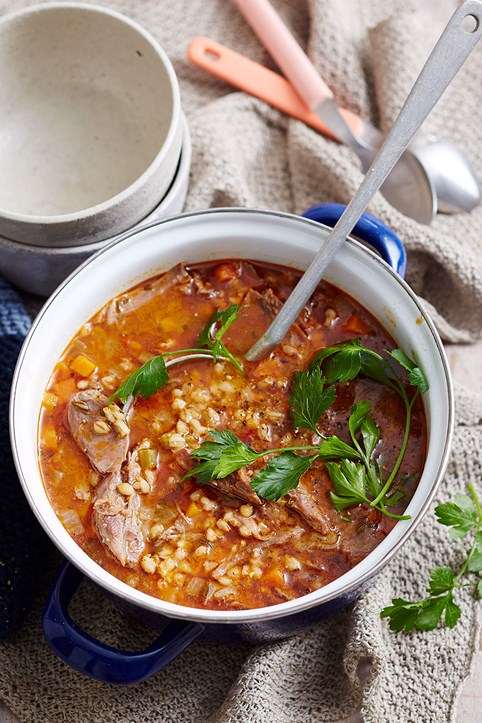 You might also like:
Disclaimer: The opinions posted within this blog are those of the writer and do not necessarily reflect the views of Better Homes and Gardens® Real Estate, others employed by Better Homes and Gardens® Real Estate or the organisations with which the network is affiliated. The author takes full responsibility for his opinions and does not hold Better Homes and Gardens® Real Estate or any third party responsible for anything in the posted content. The author freely admits that his views may not be the same as those of his colleagues, or third parties associated with the Better Homes and Gardens® Real Estate network.