July at a glance
National housing values rose a further 1.6% in July taking the annual growth figure to 16.1%,
Capital gains over the last 12 months has been greater in regional areas compared to capital cities,
The growth cycle has started to taper with housing becoming less affordable,
The more expensive properties that had the greatest capital gains are now the ones showing the signs of easing prices,
The number of sales continues to be higher than average,
National rent rose by 7.7% which is the fast growth since 2008.
Housing values
The housing market continues to be strong however it is evident that its fire is not as bright as the monthly increase drops compared to the highs of March.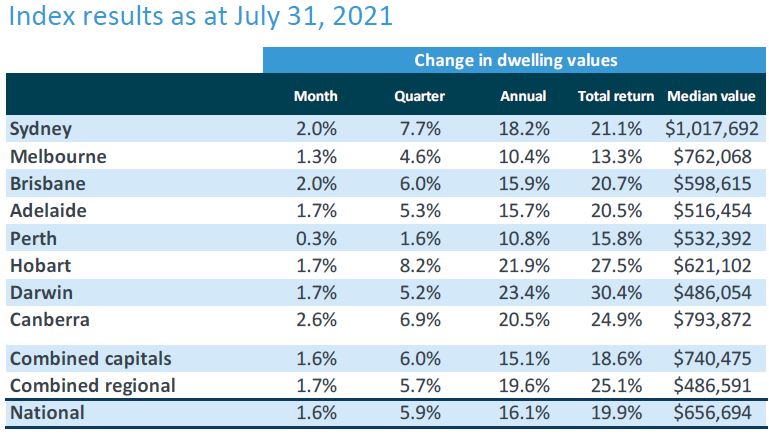 Source: CoreLogic Hedonic Home Value Index, 1 August 2021.
National values rose by 1.6% in the month, led by Canberra (2.6%), Sydney (2.0%) and Brisbane (2.0%). Perth saw the lowest level of growth with only a 0.3% rise in values over July.
With dwelling values increasing by 16.1% over the last 12 months, significantly greater than the change in wages, it has made housing less affordable for many buyers.
Median house values nationally sits at $656,694. Sydney remains the most expensive city with a median price of $1,017,692, followed by Canberra at $793,872, and Melbourne at $762,068.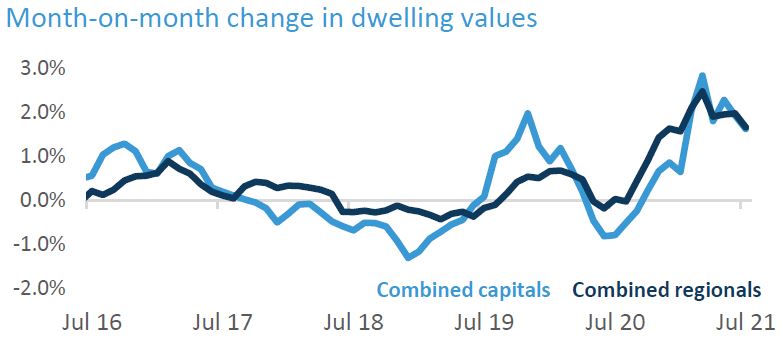 Source: CoreLogic Hedonic Home Value Index, 1 August 2021.
The growth across capital cities and regional areas were very similar over July, rising by 1.6% and 1.7% respectively. In terms of property types, houses continued to record higher levels of growth than units.
Auction clearance rates held to the mid-70% range due to strong buyer demand, and private treaty sales saw record selling times. The median time a property is approximately 30 days in Sydney, 34 days in Melbourne, 37 days in Brisbane, and 32 days in Adelaide.
Good Time To Sell
With mortgage rates at historic lows, and a very low quantity of new properties advertised for sale, sellers are taking the opportunity to get their properties on the market and tap into the buyer demand.
New listings are about 26% lower than the 5-year average, spurring the FOMO mentality. Lockdowns in Sydney and Melbourne have led to even less properties to be placed on the market, as sellers wait for restrictions to ease. The vendors that are in market will benefit from less competition and therefore more eyes on their properties.
It is expected that buyers will continue to compete for the low levels of available stock until the number of properties available for sale starts to increase, further driving up prices.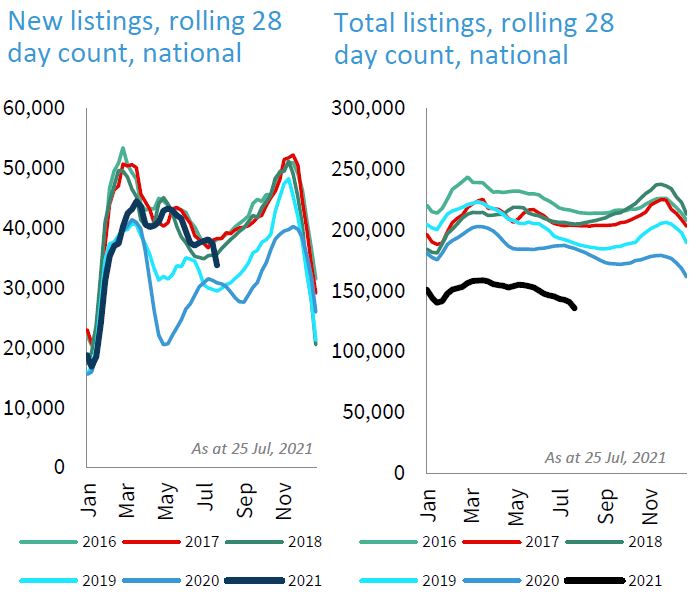 Source: CoreLogic Hedonic Home Value Index, 1 August 2021.
Summary
As housing values increase by more that rents, investor returns have steadily declined. We are seeing strong growth in rents in recent months, including July where they lifted by 7.7%. Darwin and Perth are experiencing low vacancy and high rental demand, while Sydney and Melbourne have started to stabilise after seeing rents reduce during COVID.
The housing market continues to be strong but there are clear signs that things are slowing. The number of home sales and new listings remain impacted by the lockdowns however low interest rates and supply ensure there is strong demand for properties that do hit the market.
CLICK HERE TO DOWNLOAD THE FULL REPORT
Author: Frank Knez

Disclaimer: The opinions posted within this blog are those of the writer and do not necessarily reflect the views of Better Homes and Gardens® Real Estate, others employed by Better Homes and Gardens® Real Estate or the organisations with which the network is affiliated. The author takes full responsibility for his opinions and does not hold Better Homes and Gardens® Real Estate or any third party responsible for anything in the posted content. The author freely admits that his views may not be the same as those of his colleagues, or third parties associated with the Better Homes and Gardens® Real Estate network.