October at a glance
Housing values across the nation rose by another 1.5% in October, similar to the result in the previous month,
The year to date capital gain now sits at 21.6% across the national average,
There has been uplift in the number of properties listed for sale over the last month,
Rents increased by 0.7% in October, led by Perth and Darwin,
There are evident signs that the property market is cooling.
Housing values
National dwelling values rose by 1.5% over October which has been similar to the last two month. The strongest growth was seen in Brisbane (+2.54%), Adelaide and Hobart (both +2.00%), and Canberra (+1.94%). Prices in Darwin increased by only 0.42% while in Perth they actually declined by 0.11%.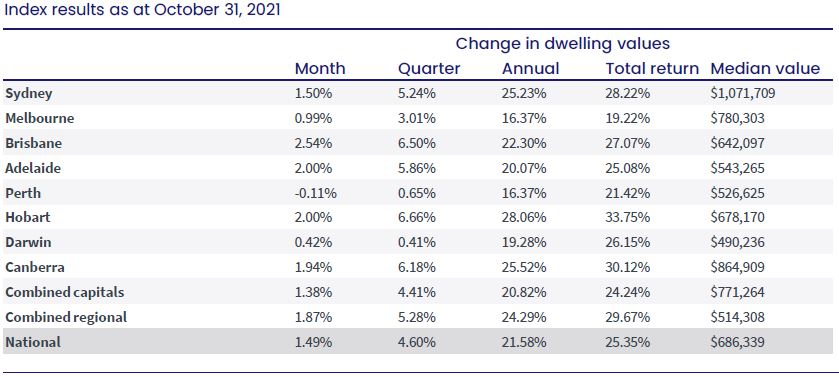 Source: CoreLogic Hedonic Home Value Index, 1 November 2021. 
With the national average house price up by 21.58%, affordability was certain to become an issue for segments of the population, especially with income not keeping up with that level of growth. The median house price is now $1,071,709 in Sydney, $780,303 in Melbourne, $642,097 in Brisbane, and $543,265 in Adelaide.
Last month saw regional markets record a stronger increase in their housing values, rising 1.9% compared to 1.4% for the capital cities. The median value of a dwelling in the combined regionals is $514,308.

Source: CoreLogic Hedonic Home Value Index, 1 November 2021.
Rental market
Over the past quarter there has been strong increases in rent across Sydney (+2.4%), Brisbane (+2.3%), and regional
Queensland and New South Wales (also +2.3%). Perth on the other hand witnessed a much lower increase having risen by just 0.6% over the same period. 
At an annual level, Darwin is a clear leader with regard to rising rents in houses and units, increasing by 19.5% and 18.5% respectively. Hobart rents rose by 13.8% across both dwelling types, followed by Perth. Melbourne had the lower change in annual rents, with houses up by only 4.5% and units by a mere 0.2%.
Unit rents have generally not performed as well as houses, rising 1.9% and 1.6% respectively over the previous three months.  While both house prices and rents are expected to continue to increase albeit at lower levels, housing prices are likely to rise at a greater level than rents in the immediate term.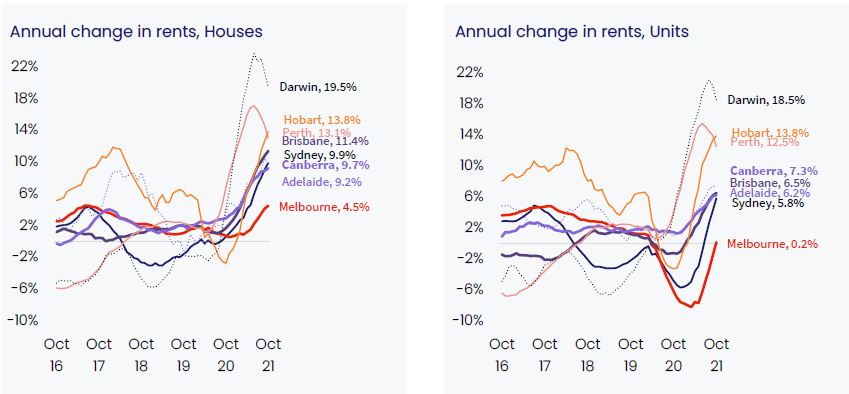 Source: CoreLogic Hedonic Home Value Index, 1 November 2021.
New listings on the rise
There has been a steady rise in the number of properties advertised for sale over the month of October. The level of stock remains very low and has contributed to house prices increasing, thanks to vendors benefiting from demand being greater than supply in recent months. This may start to shift during 2022 as more properties hit the market and buyers have greater choice.
CoreLogic's research director, Tim Lawless, noted "Vendor metrics such as auction clearance rates, days on market and vendor discounting rates remain at above average levels, indicating this is still a sellers' market, however conditions may start to rebalance towards buyers late this year or early next year".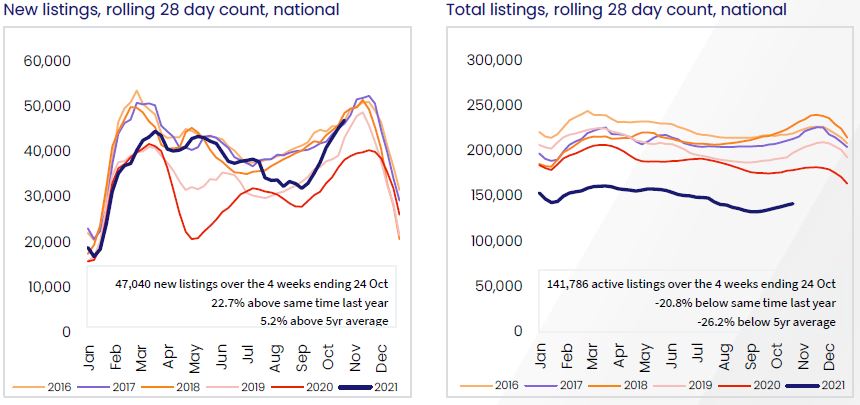 Source: CoreLogic Hedonic Home Value Index, 1 November 2021.
Outlook
The housing market continues to perform above the average rate of growth, but signs are there that things are cooling. An expected increase in new listings and the tightening of credit criteria should reduce the incidence of FOMO which was so prominent throughout the early part of 2021. 
CLICK HERE TO DOWNLOAD THE FULL REPORT
Author: Frank Knez

Disclaimer: The opinions posted within this blog are those of the writer and do not necessarily reflect the views of Better Homes and Gardens® Real Estate, others employed by Better Homes and Gardens® Real Estate or the organisations with which the network is affiliated. The author takes full responsibility for his opinions and does not hold Better Homes and Gardens® Real Estate or any third party responsible for anything in the posted content. The author freely admits that his views may not be the same as those of his colleagues, or third parties associated with the Better Homes and Gardens® Real Estate network.