Try serving up a scare with these delicious little monsters! – by Better Homes and Gardens
Ingredients
• 175g unsalted butter, chopped, softened
• 3 cups icing sugar mixture
• 2 tsp vanilla extract
• 2 Tbsp milk
• Green, red and purple gel food colouring
• 24 medium-size chocolate-chip cookies
• Chocolate chips, to decorate
• Large marshmallows, to decorate
• Coloured chocolate buttons, to decorate
• Licorice straps, to decorate
Method
Put butter and 1/2 of the sugar in the bowl of an electric mixer and beat on medium, using paddle attachment, for 5 minutes or until very light. Add remaining sugar and vanilla, then increase speed to high and beat for a further 3 minutes. Pour in milk and beat for 2 minutes. Divide mixture among 3 bowls.
Tint each portion with a gel colour. Sandwich pairs of cookies together with coloured icing, with 1 side slightly open like a clam shell. Spread or pipe a little of another coloured icing on top. Decorate with chocolate chips, large marshmallows, coloured chocolate buttons and licorice straps. Serve.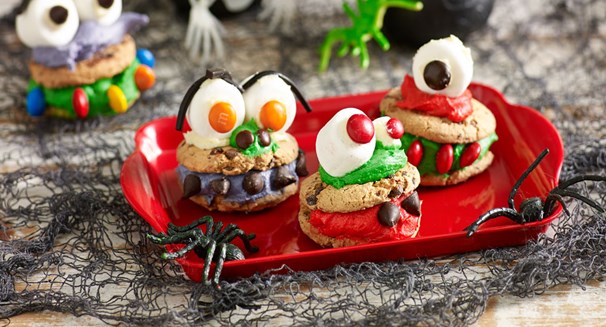 You might also like:
Easy slow cooked lamb shanks with red wine sauce
Disclaimer: The opinions posted within this blog are those of the writer and do not necessarily reflect the views of Better Homes and Gardens® Real Estate, others employed by Better Homes and Gardens® Real Estate or the organisations with which the network is affiliated. The author takes full responsibility for his opinions and does not hold Better Homes and Gardens® Real Estate or any third party responsible for anything in the posted content. The author freely admits that his views may not be the same as those of his colleagues, or third parties associated with the Better Homes and Gardens® Real Estate network.