January at a glance
House prices rose by 1.1% over the first month of the new year,
Australian dwellings are now 22.4% higher than a year ago; which in dollar terms makes the typical home $131,236 more expensive,
Every capital city and regional area witnessed a rise in both dwelling prices and rents over the month,
New properties hitting the market saw an increase however total inventory remains low,
The prospects of interest rates being lifted later this year is gaining traction.
Housing values
Property prices increased by 1.1% nationally over January, which is not too different from where things left of in 2021. Brisbane and Adelaide continued to show the strongest performance with dwelling values rising by 2.3% and 2.2% respectively. The lowest increases were Melbourne (0.2%), Darwin (0.5%) and Perth (0.6%).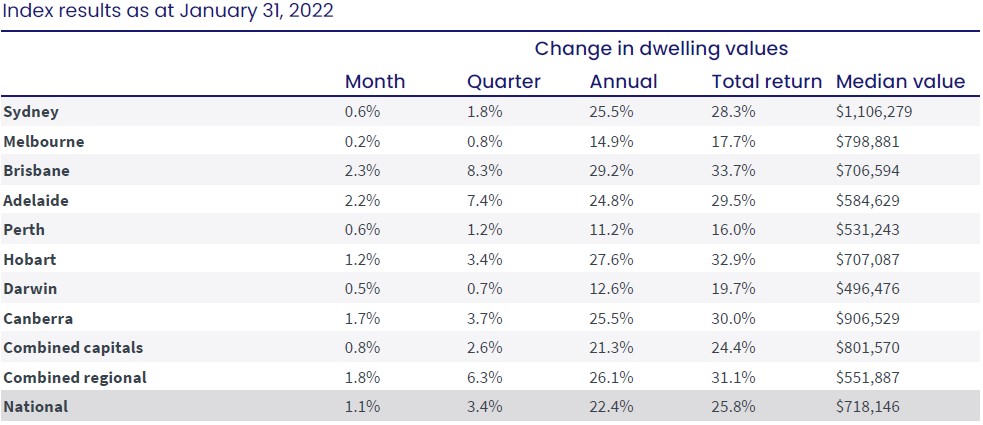 Source: CoreLogic Hedonic Home Value Index, 1 February 2022. 
The median house price has increased to $1,106,279 in Sydney, $798,881 in Melbourne, $706,594 in Brisbane, and $584,629 in Adelaide. Values in combined regionals outperformed capital cities during January, rising by 1.8% compared to 0.8%.
Over the previous quarter, Brisbane has had the best performance where prices have increased by a staggering 8.3%, followed closely by Adelaide at 7.4%, and daylight between the other capitals.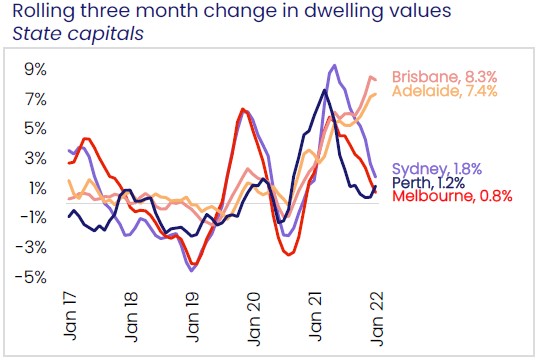 Source: CoreLogic Hedonic Home Value Index, 1 February 2022.
More homes available for sale
Across the nation, 33,160 new property were advertised for sale which is nearly 6% higher than the same time last year, showing that this January had stronger activity than is usually seen in the quietest month for home sales.
With low quantities of new stock, we see a continuation of the low level of total inventory available to buyers. 
"The trends in advertised supply levels go a long way towards explaining the performance of housing values. Melbourne and Sydney have seen inventory levels normalise over recent months, taking some urgency out of the market as supply and demand become more evenly balanced. The situation in Adelaide and Brisbane is very different; supply remains tight and buyer competition is a key factor supporting the upwards pressure on prices," said Tim Lawless, research director at CoreLogic.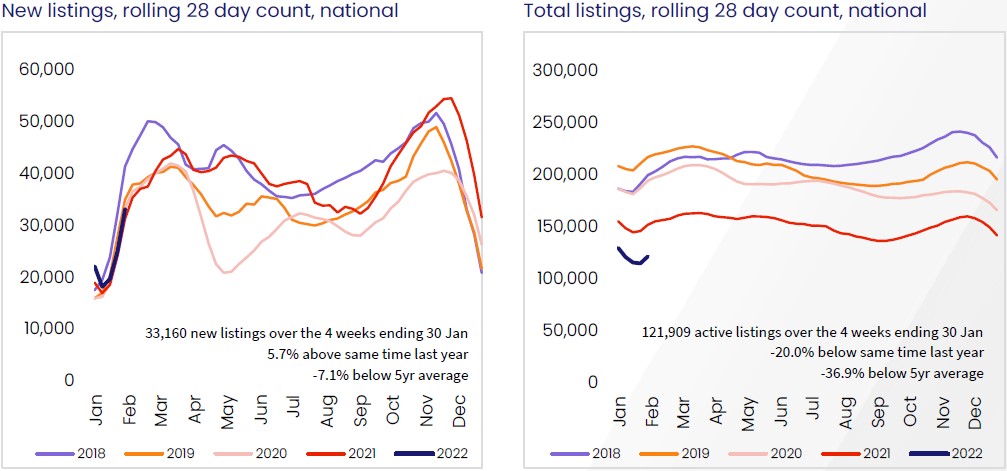 Source: CoreLogic Hedonic Home Value Index, 1 February 2022.
Rental market
The pace at which rents in Australian have increased has eased since the peak in March 2021 where the national rental index was up 3.2%. It has now reduced to a quarterly growth rate of 2.0% to the end of January 2022.
Nationally, rents are up 9.0% annually which highlights a broad slowing in rental growth conditions which is most notable in Darwin and Perth. 
Outlook
The housing market has started the new year in a similar way to the last three months of 2021. It is expected that growth rates will be modest and likely reduce as the year unrolls. The quantity of new properties to hit the market as well as fear of interest rate movements are the uncertainties that will have an impact on demand for property and the degree of change in housing values.
CLICK HERE TO DOWNLOAD THE FULL REPORT
Author: Frank Knez

Disclaimer: The opinions posted within this blog are those of the writer and do not necessarily reflect the views of Better Homes and Gardens® Real Estate, others employed by Better Homes and Gardens® Real Estate or the organisations with which the network is affiliated. The author takes full responsibility for his opinions and does not hold Better Homes and Gardens® Real Estate or any third party responsible for anything in the posted content. The author freely admits that his views may not be the same as those of his colleagues, or third parties associated with the Better Homes and Gardens® Real Estate network.