Better Homes and Gardens Real Estate (BHGRE) this week celebrated the achievements of individuals and offices across the network.
With the strong buyer demand for property, a booming regional market and relocation activity throughout 2021 it was great to see many agents and offices ride the wave of opportunity this presented to them. 
Skilled leaders Danelle Wiseman and Jonathan Pattinson alongside their team at BHGRE Coast and Hinterland were honoured for their market share dominance with top office, top principal, business excellence, and the coveted Emerald Elite performance awards amongst other accolades.
Operating within the same business but from the Beerwah office are the dynamic team of Andrew and Wendy Dobbie who were awarded the top salesperson award based on number of properties listed and sold.
Also on the Sunshine Coast, BHGRE Gympie Niki Meads was recognised with a sales award as well as the PAIGE award for her team's commitment to the brands values, the real estate profession, and their community.
Likewise, the lifestyle appeal of the Lower Blue Mountains area of Greater Sydney, saw BHGRE Property Solutions agent, Steve Woods take home the network's Top Salesperson award based on commission, while Principal Vickie Stickler was acknowledged as the Leader of the Year.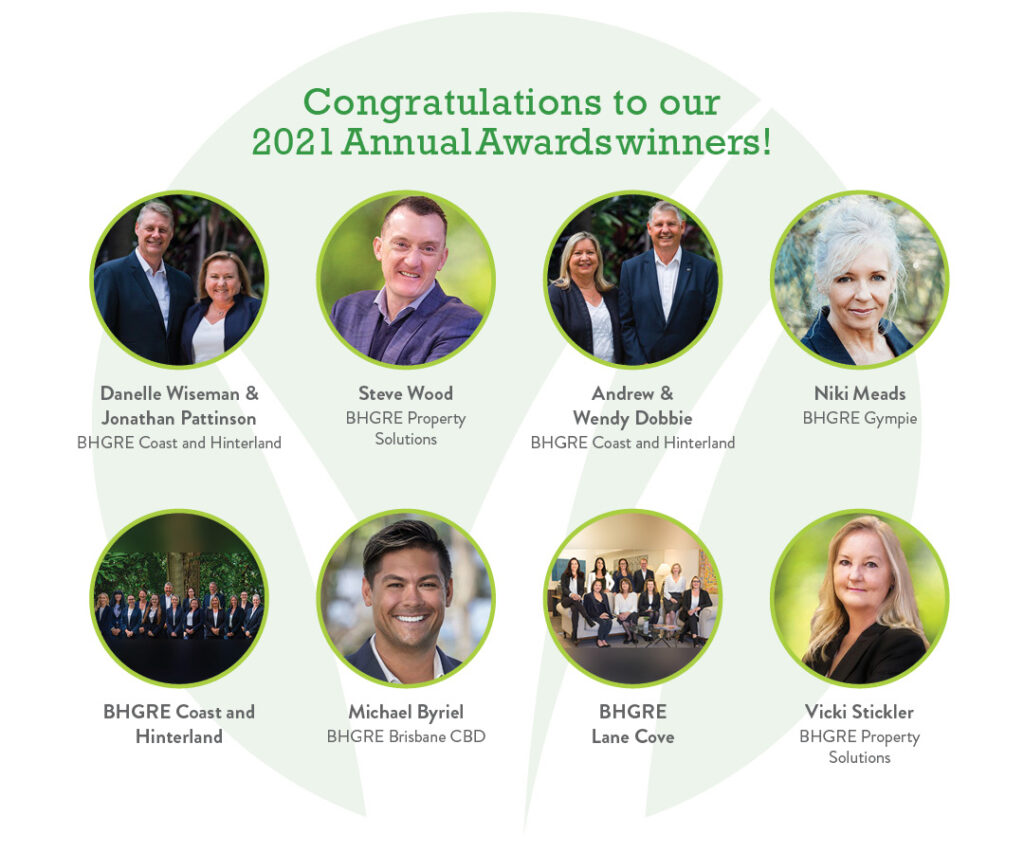 BHGRE Lane Cove, led by Lloyd and Jane Allen, focused on the growth potential for their businesses in the areas of property management and auction sales which saw them awarded with Top Auction, Property Manager of the Year and Property Management Office of the Year. 
"Home buyers and sellers choose Better Homes and Gardens Real Estate because they trust the brand and expect a better level of service which our teams provide" said Frank Knez, CEO of parent company Combined Franchise Services. 
Another award handed out was the Rookie of the Year which went to Michael Byriel from BHGRE Brisbane CBD working under the skilled leadership of James Prendergast. Joining the network in March 2021, Michael has made exceptional progress through his absolute commitment to service and communication. 
"By focusing on creating a culture geared towards personal and business growth, our teams are attracting new recruits who see the value in aligning their careers with the Better Homes and Gardens Real Estate brand," Mr Knez concluded.

Disclaimer: The opinions posted within this blog are those of the writer and do not necessarily reflect the views of Better Homes and Gardens® Real Estate, others employed by Better Homes and Gardens® Real Estate or the organisations with which the network is affiliated. The author takes full responsibility for his opinions and does not hold Better Homes and Gardens® Real Estate or any third party responsible for anything in the posted content. The author freely admits that his views may not be the same as those of his colleagues, or third parties associated with the Better Homes and Gardens® Real Estate network.