May at a glance
First fall in national dwelling values since September 2020 with a 0.1% reduction during May,
Buyers are still in the market but have more choice than they did 12 months ago,
Greatest declines were evident in Sydney (-1.0) and Melbourne (-0.7%), 
Adelaide and Brisbane continue to perform strongly with housing values rising by 1.8% and 0.8% respectively,
41,139 new properties were advertised for sale in the 4 weeks ending 29 May,
Rents continue to rise across all capital cities with the annual change tracking at 8.6%.
Dwelling values
The last month saw the first decline in house prices at a national level since late 2020, albeit only marginally. Sydney (-1.0%) and Melbourne (-0.7%) saw the greatest change and contributed to the national drop of 0.1%. Some states continue to see values increase including Adelaide where house prices rose by 1.8% over April, Brisbane (0.8%), Perth (0.6%), Darwin (0.5%) and Hobart (0.3%). 

Source: CoreLogic Hedonic Home Value Index, 1 June 2022. 
Regional areas have performed stronger than the capital cities however are now also starting to cool with growth over the last quarter now 3.6% compared to 4.7% only one month prior.
It is evident that in the larger capitals, prices are coming back to where they should be, having been pushed to high levels by homebuyers competing for the scarce properties available for sale. The median value is now $1,120,836 in Sydney, $806,196 in Melbourne, $779,895 in Brisbane, and $628,744 in Adelaide.
Inventory and sales
The number of new properties listed for sale in Sydney and Melbourne are higher than they were 12 months ago. This helps to explains the cooling house prices in these states not only have buyer numbers dropped, but they now have more options to consider  before deciding on a purchase. At a national level, new stock remains -10.3% on last year, driving the increase in values across some states.
Nationally there were 41,139 new property listings in the 4 weeks to 29 May 2022 which is 11.6% above the 5 year average, and slightly lower than this time last year.
A look at home sale volumes and approved loan commitments sheds light on the demand for housing.
A number of states and territories recorded drops in buyer activity; Sydney sales were down 33.4% in the three months to May compared to the same quarter in 2021, Canberra -21.6%, and Melbourne – 21.3%.


Source: CoreLogic Hedonic Home Value Index, 1 June 2022.

At the same time, according to the Australian Bureau of Statistics latest lending indicator report, the value of housing loan commitments over April fell 6.4% compared to the prior month. Owner occupied lending reduced by 7.3% while first home buyers dropped by 6.2%.
"A combination of higher interest rates, lower rates of household saving and a potentially more cautious lending environment is likely to reduce housing demand further just as total advertised stock levels are likely to continue rising, further empowering buyers by creating increased competition amongst vendors." noted Tim Lawless, research director at CoreLogic.
Rental market
The cost of rental continues to rise across most of the capital cities, increasing by 1.0% in May, and 3.0% over the last quarter. The increase has been more prominent in units than in houses. With rents on the increase at the same time that house prices are easing, we will see yields rise, particularly in Sydney and Melbourne. 
The graphs below denote the annual change in rent in houses (left side) and units (right side). Interestingly, the regions experiencing strong rental growth in houses are not necessarily seeing the same in units e.g. Melbourne has the highest annual rental growth in units at 9.8% but is the second worst performer in houses at 5.1%.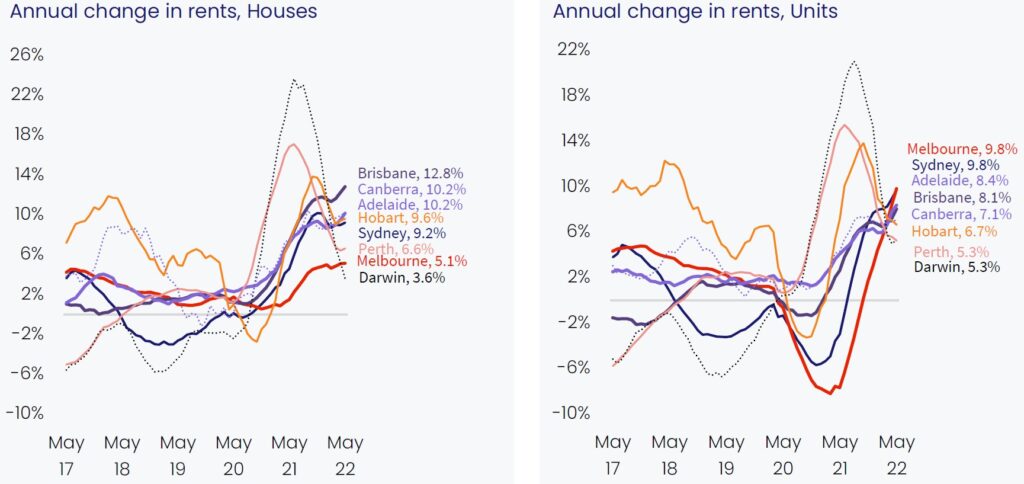 Source: CoreLogic Hedonic Home Value Index, 1 June 2022.
Outlook
With interest rates expected to commence their return to a level or normality, the next 1 to 2 years will likely see house prices in most of Australia's capital cities return to where they should be, marginally down from the highs brought about by frenzied buyer activity.
The volume of properties advertised for sale should continue to increase and create an environment where homebuyers have time to review option before making a purchase without fear of losing out.
A low unemployment rate and the fact that many households are ahead on their mortgage repayments should see home owners able to meet higher repayments from the rising interest rates. 
CLICK HERE TO DOWNLOAD THE FULL REPORT
Author: Frank Knez

Disclaimer: The opinions posted within this blog are those of the writer and do not necessarily reflect the views of Better Homes and Gardens® Real Estate, others employed by Better Homes and Gardens® Real Estate or the organisations with which the network is affiliated. The author takes full responsibility for his opinions and does not hold Better Homes and Gardens® Real Estate or any third party responsible for anything in the posted content. The author freely admits that his views may not be the same as those of his colleagues, or third parties associated with the Better Homes and Gardens® Real Estate network.