A hearty pie with bags of flavour. – by Sarah Murphy
Sprinkle with dukkah for extra crunch!
Ingredients
1 Tbsp olive oil
1 red onion, finely chopped
500g beef mince
2 Tbsp Moroccan seasoning
1 clove garlic, crushed
400g can diced tomatoes
1 cup instant couscous
½ cup coriander, chopped
6 sheets filo pastry
30g butter, melted
1 Tbsp dukkah (see Cook's Tip)
2 carrots, finely chopped
Method
Preheat oven to moderate, 180°C.
In a large ovenproof frying pan, heat oil on medium. Saute onion 3-4 minutes until tender.
Increase heat to high. Add mince and brown 4-5 minutes, breaking up lumps. Add carrot, spice and garlic and saute 1-2 minutes until fragrant.
Stir in tomatoes and bring to boil. Simmer, uncovered, 8-10 minutes, until thickened.
Meanwhile, prepare couscous following packet instructions. Add coriander. Spoon couscous over mince, smoothing top.
Layer 2 filo sheets together, brushing each with butter. Cut into quarters. Scrunch over couscous. Repeat with remaining filo and butter until couscous is covered. Sprinkle with dukkah.
Bake 15-20 minutes until pastry is crisp and golden. Serve hot.
Cook's tip
To make dukkah, combine 2 Tbsp each toasted, chopped hazelnuts and toasted sesame seeds, 1 Tbsp ground coriander, 2 tsp ground cumin and 2 tsp sea salt flakes. Mix well and store in an airtight jar in a cool, dry place.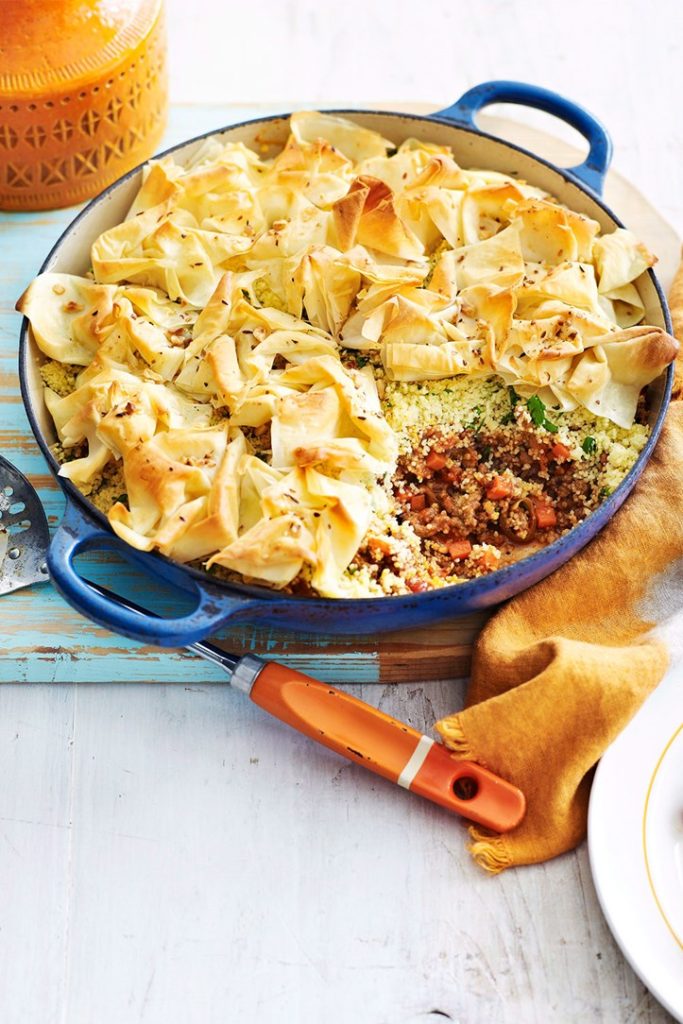 You might also like:
Easy slow cooked lamb shanks with red wine sauce
Disclaimer: The opinions posted within this blog are those of the writer and do not necessarily reflect the views of Better Homes and Gardens® Real Estate, others employed by Better Homes and Gardens® Real Estate or the organisations with which the network is affiliated. The author takes full responsibility for his opinions and does not hold Better Homes and Gardens® Real Estate or any third party responsible for anything in the posted content. The author freely admits that his views may not be the same as those of his colleagues, or third parties associated with the Better Homes and Gardens® Real Estate network.