February at a glance
House prices rose by 0.6% over February as the market continues to cool,
Sydney sees prices decline for the first time in 17 months,
Australian dwellings values are 20.6% higher than this time last year ago,
Brisbane and Adelaide achieved the highest growth over February,
Despite 45,199 new listings over the month, total properties for sale is 13.3% lower than a year ago,
Rents rose marginally, driven by the unit market.
Housing values
Property prices at a national level are continuing to rise, however at a slower pace to what we have seen over the past 18 months. The national change in dwelling values over February was 0.6%, which compares to 1.1% in January. Brisbane and Adelaide were again the strongest capital cities, rising by 1.8% and 1.5% respectively, while Sydney saw prices decline by 0.1% for the first time in 17 months.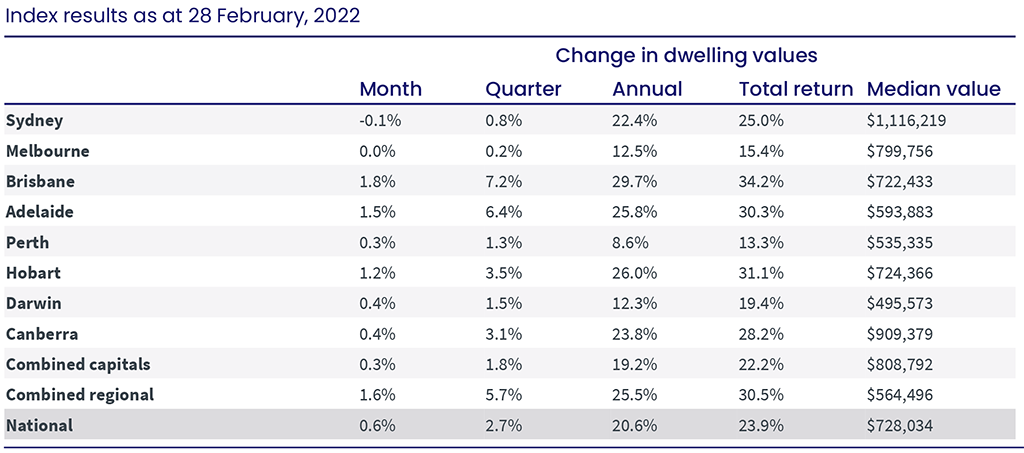 Source: CoreLogic Hedonic Home Value Index, 1 March 2022. 
As at the end of February, the median house price in Sydney was $1,116,219, Melbourne $799,756, Brisbane $722,433, and Adelaide $593,883.
Interestingly, house values in regional areas continue to outperform capital cities, with the exception of Brisbane. Looking at the rolling three month change in values, regional areas increased by 5.7% compared to only 1.8% in the capitals. The following graph shows the steep decline in capital city growth while regional areas are maintaining strong month on month growth.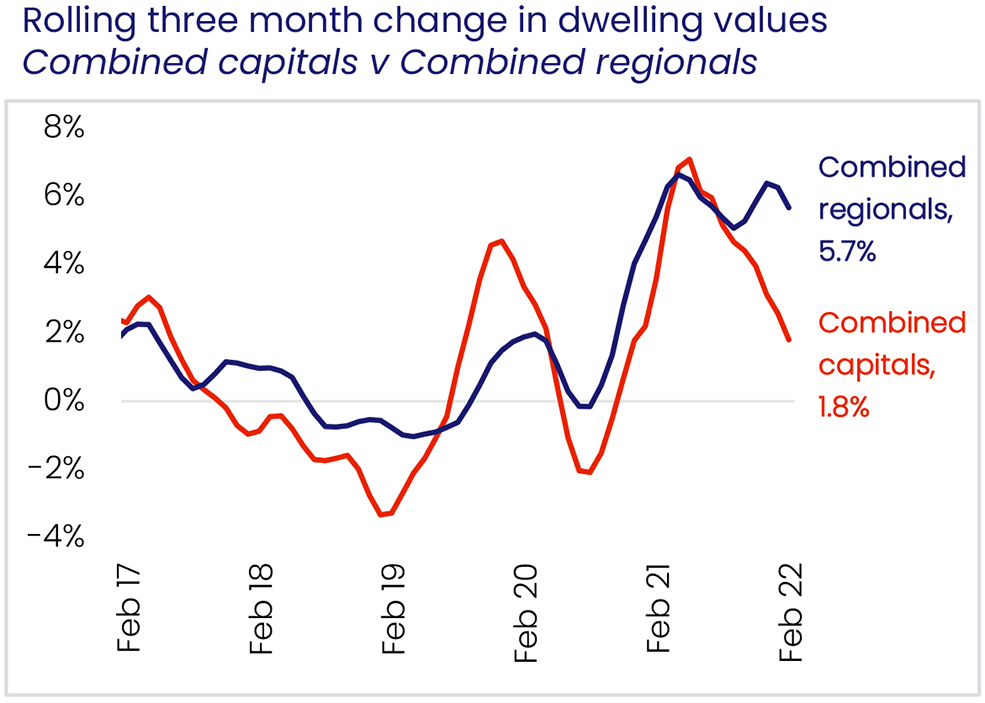 Source: CoreLogic Hedonic Home Value Index, 1 March 2022.
Not enough properties for sale
The number of properties advertised during February was approximately 13% less than this time last year which highlights the shortage of dwellings available to buyers. This has been a key driver of house price growth as purchasers compete for the limited properties on the market for sale.
Sydney and Melbourne have seen inventory return to a level of normality while most other Australian capitals are still seeing low amount of stock on market.
Tim Lawless, research director at CoreLogic said that more choice translates to less urgency for buyers and some empowerment at the negotiation table.
A positive trend however is the slow increase in new properties being advertised for sale. February saw 45,199 new properties listed for sale which is 11.3% above the same time last year.


Source: CoreLogic Hedonic Home Value Index, 1 March 2022.
Outlook
Fixed interest rates are slowly making their way higher despite variable rates remaining stable at this moment. Stock levels are also on the improve which should continue to see the market lose steam and plateau in regards to house price growth.
The uncertainties that exist are the upcoming federal election, impacts on the war in Ukraine, and when the levels of migration will start to return to normal levels which may also have an influence on the property market to some degree.  
CLICK HERE TO DOWNLOAD THE FULL REPORT
Author: Frank Knez

Disclaimer: The opinions posted within this blog are those of the writer and do not necessarily reflect the views of Better Homes and Gardens® Real Estate, others employed by Better Homes and Gardens® Real Estate or the organisations with which the network is affiliated. The author takes full responsibility for his opinions and does not hold Better Homes and Gardens® Real Estate or any third party responsible for anything in the posted content. The author freely admits that his views may not be the same as those of his colleagues, or third parties associated with the Better Homes and Gardens® Real Estate network.